Our not-for-profit educational art programs are fun and engaging for families with children 5 to 13 years of age.
About this Event
HOMESCHOOL ART WEDNESDAYS
February/March 2021
In-person and virtual art programs take place from 1:30 to 3:00 pm every Wednesday and are led by experienced professional artist instructors.
VIRTUAL CLASSES: Art Kits will be ready for curbside pickup 5 days prior to the program date. Please contact Shannon at 780-651-5735 or email shannonv@artsandheritage.ca to find out how you can secure any of our listed programs for a group of friends to enjoy a virtual art making session together!
IN-PERSON CLASSES (Once Provincial restrictions are lifted): Face masks are mandatory in all public buildings within St. Albert limits and safety protocols are in place, such as hand sanitizer stations in all facilities and the disinfecting of all equipment and high touch surfaces prior to and following each class.
REGISTRATION CLOSES 7 DAYS PRIOR TO CLASS so please contact shannonv@artsandheritage.ca to see if spots are still available!
Project Photos and Descriptions can be found here: http://artgalleryofstalbert.ca/learning/community-classes/homeschool/
Dates and Times:
February 3, 1:30-3pm - Huichol Yarn Painting - Discover how the Huichol people of Northwestern Mexico create beautiful vibrant images using complimentary yarn colours and beeswax. All designs are based on a love and respect for the natural world.
February 10, 1:30-3pm - Linocut Valentine Cards - Draw a heart themed design onto a Safety-Kut Lino block before learning how to safely use a lino carving tool. Lino blocks are then inked up with a roller or brayer and pressed onto folded card stock to create a printed image. Up to four valentine cards can be created in this fun, process driven art class!
February 17, 1:30-3pm - Ring Weaving - Using a pre-wrapped metal ring, children will create a circular warp that starts out like spokes on a bicycle wheel. A variety of materials will be used to weave a circular weft starting in the centre and moving outwards. This project can be turned into a lovely little wall hanging, wind chime or tree decoration.
February 24, 1:30-3pm - String Painting - Experiment with paint, string and a variety of surfaces during this active, colourful art class designed to surprise, challenge, and engage curious minds. Three different art projects will be created during the program.
March 3, 1:30-3pm - Macrame Wall Hanging - Children learn how to make and incorporate several different types of macramé knots before they are challenged to create a balanced, symmetrical wall hanging that may include the addition of wooden beads.
March 10, 1:30-3pm - Batik - The process of dying fabric after it has been decorated with intricate patterns using beeswax has been practiced in Asia for over 2000 years. Using melted beeswax, children will experiment with tijanting tools, brushes and fabric dyes to create a beautifully decorated batik artwork. Completed batik can be sewn onto pillows, clothing or added to a frame.
March 17, 1:30-3pm - Illuminated Celtic Letters - It's St. Patrick's Day so why not learn about Celtic art and lettering? Children are inspired by images of traditional Illuminated Manuscripts before being challenged to design the first letter of their name as a Celtic letter using pen and ink.
March 24, 1:30-3pm - Decorative Eggs - Get ready for Easter by taking part in a tradition that comes to us from the Ukraine. Children learn how to safely handle a raw egg, open candle flame and a kystka, the traditional Ukrainian drawing tool used to apply wax designs onto an egg between dye baths.
Cost: $15 (SHINE members save $2 with promo code!)
*Please note that a small Eventbrite fee is applied to all bookings.
Location: Virtual or Painting Studio, St Albert Place
Secure your spot early and share with homeschool groups to ensure your class can take place. Ticket sales close 7 days prior to the class, and refunds will be provided to participants of undersubscribed programs. View our class cancellation and withdrawal policies.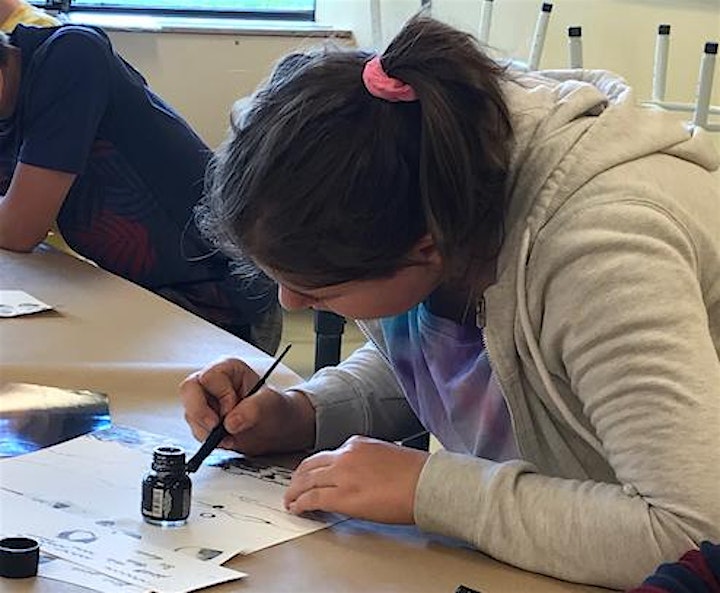 "Illuminated Celtic Letters" art program using traditional pen and ink well