About this Event
HOMESCHOOL CLAY FRIDAYS
February/March 2021
In-person and virtual clay programs take place from 1:30 to 3:00 pm every Friday and are led by experienced professional artist instructors.
VIRTUAL CLASSES: Art Kits will be ready for curbside pickup 5 days prior to the program date. Please contact Shannon at 780-651-5735 or email shannonv@artsandheritage.ca to find out how you can secure any of our listed programs for a group of friends to enjoy a virtual art making session together! All loaned equipment must be returned 3 days after the program takes place.
IN-PERSON CLASSES (Once Provincial restrictions are lifted): Face masks are mandatory in all public buildings within St. Albert limits and safety protocols are in place, such as hand sanitizer stations in all facilities and the disinfecting of all equipment and high touch surfaces prior to and following each class.
REGISTRATION CLOSES 7 DAYS PRIOR TO CLASS so please contact shannonv@artsandheritage.ca to find out if spots are still available!
Project Photos and Descriptions can be found here: http://artgalleryofstalbert.ca/learning/community-classes/homeschool/
Dates and Times:
February 5, 1:30 to 3:00 pm - Heart Box - Build a heart shaped jewelry box for that special someone, ready in time for Valentine's Day! Using slab clay, children will learn to cut and join slabs of clay into a useful container with a special fitted lid.
February 12, 1:30 to 3:00 pm - Clay Bouquet - Learn how to construct a number of different flower varieties by rolling, coiling and impressing clay. Arrange them all together on a circular slab lid that sits atop a small vase to produce a lovely clay bouquet with a hidden compartment!
February 19, 1:30 to 3:00 pm - Sgraffito Plate - Using a round slab of clay and coil edging, children will create a plate that is decorated using the sgraffito technique. This technique involves painting the raw clay with a coloured underglaze before using wire tools to remove layers of coloured clay, producing a unique textural design revealing the clay beneath.
February 26, 1:30 to 3:00 pm - Beaver Toothpick Holder - Have fun learning to build this busy little beaver sculpture that also serves as a toothpick holder!
March 5, 1:30 to 3:00 pm - Mini Animal Watering Can - Choose an animal that has a naturally long nose, beak or neck to create this whimsical little watering can for your plants. Children will learn how to form a pot with a spout that actually pours water.
March 12, 1:30 to 3:00 pm - Bird Feeder - Create a decorative wall plaque with a small half dish for holding birdseed. Children can design this bird feeder to sit flat in the garden, on a tree stump, hang from a fence or from a tree in your yard.
March 19, 1:30 to 3:00 pm - Sprouting Head - Using a mound of clay, children learn to sculpt a head or bust that is loaded with expression. A small dish shaped impression on the top of the head will provide space for sprouting seeds to look like hair. Spring is just around the corner!
March 26, 1:30 to 3:00 pm - Garden Snail - Learn to perfect your clay coiling techniques with this garden snail. Children will experiment with adding and impressing designs and shapes onto the shell.
Cost: $12 (SHINE members save $2 with promo code!)
*Please note that a small Eventbrite fee is applied for online and phone bookings.
Location: Virtual or Painting Studio, St Albert Place
Secure your spot early and share with homeschool groups to ensure your class can take place. Ticket sales close 7 days prior to class and refunds will be provided to participants of undersubscribed programs. View our class cancellation and withdrawal policies.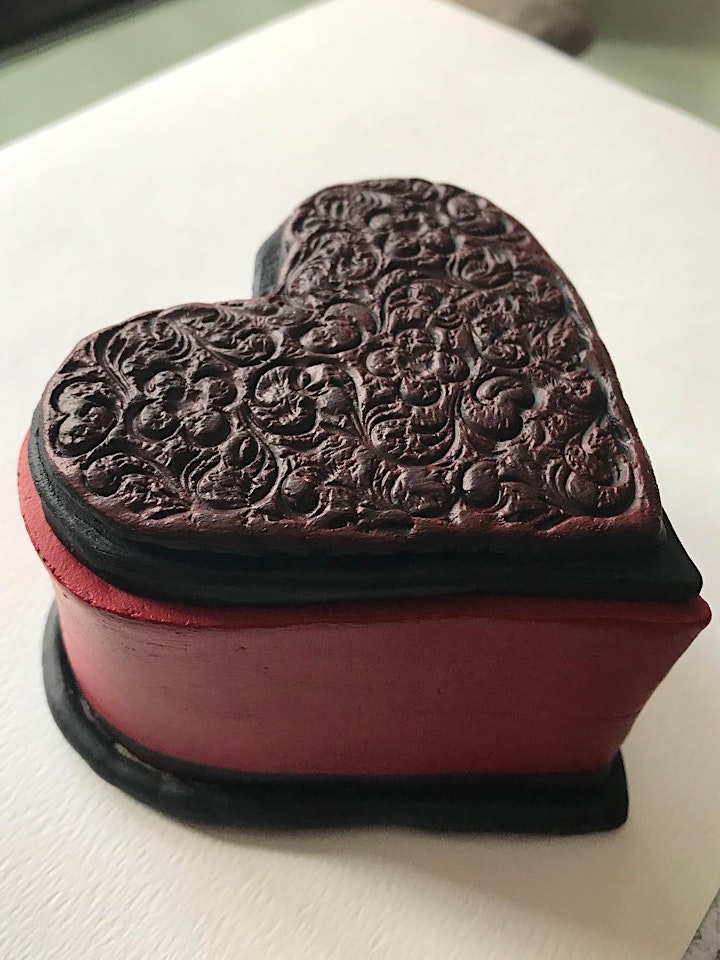 Heart Box clay program just in time for Valentine's Day!