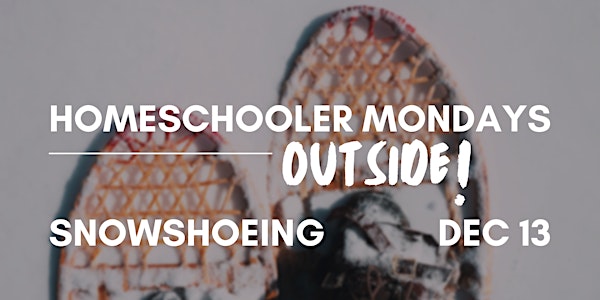 Homeschooler Mondays Outside | Physical Literacy & Sport Science for Kids
Join us for an hour of instructor-led learning outside in the Explorers Urban Garden!
About this event
Join us for an exciting adventure through the park on snowshoes!
We welcome homeschooled families to eat their lunches in the park and visit before the start of the program.
We recognize that homeschooled families often have children of a variety of ages, so each Homeschooler Monday we will offer a Primary program targeted for ages 5-8 but all ages are welcome.
Registration is limited to 30 children in the Primary programs.
Fees are $7/child. There is no charge for parent/guardian chaperones attending the programs with their children OR for younger siblings in attendance who are too young for the programs.
Location: Explorers Urban Garden (Right beside The Exploration Place)
12-12:45pm | Lunch, visiting, registration, drop in
12:45pm | Registration, check in
1-2pm | Instructor led programs
2-3pm | Clean up
As per new health orders in Northern Health, effective October 18, 2021, The Exploration Place will require anyone over the age of five to wear a mask and anyone over the age of 12 to provide proof of vaccine while participating in our outdoor activities.
Organizer of Homeschooler Mondays Outside | Physical Literacy & Sport Science for Kids