Actions and Detail Panel
Homeward Trust Edmonton Indigenous Gathering
Wed, 29 March 2017, 8:30 AM – 4:30 PM MDT
Description
Expanding upon the 2016 Edmonton Community Plan: Urban Aboriginal Strategy project, and using a community approach of respect, recognition and collaboration, our focus on this day will be aimed at building a strategic framework in support of a an Indigenous Housing Strategy for Edmonton. Your participation is invaluable to ensure that proper consideration has been given to priorities and actions, and in identifying responsibilities going forward.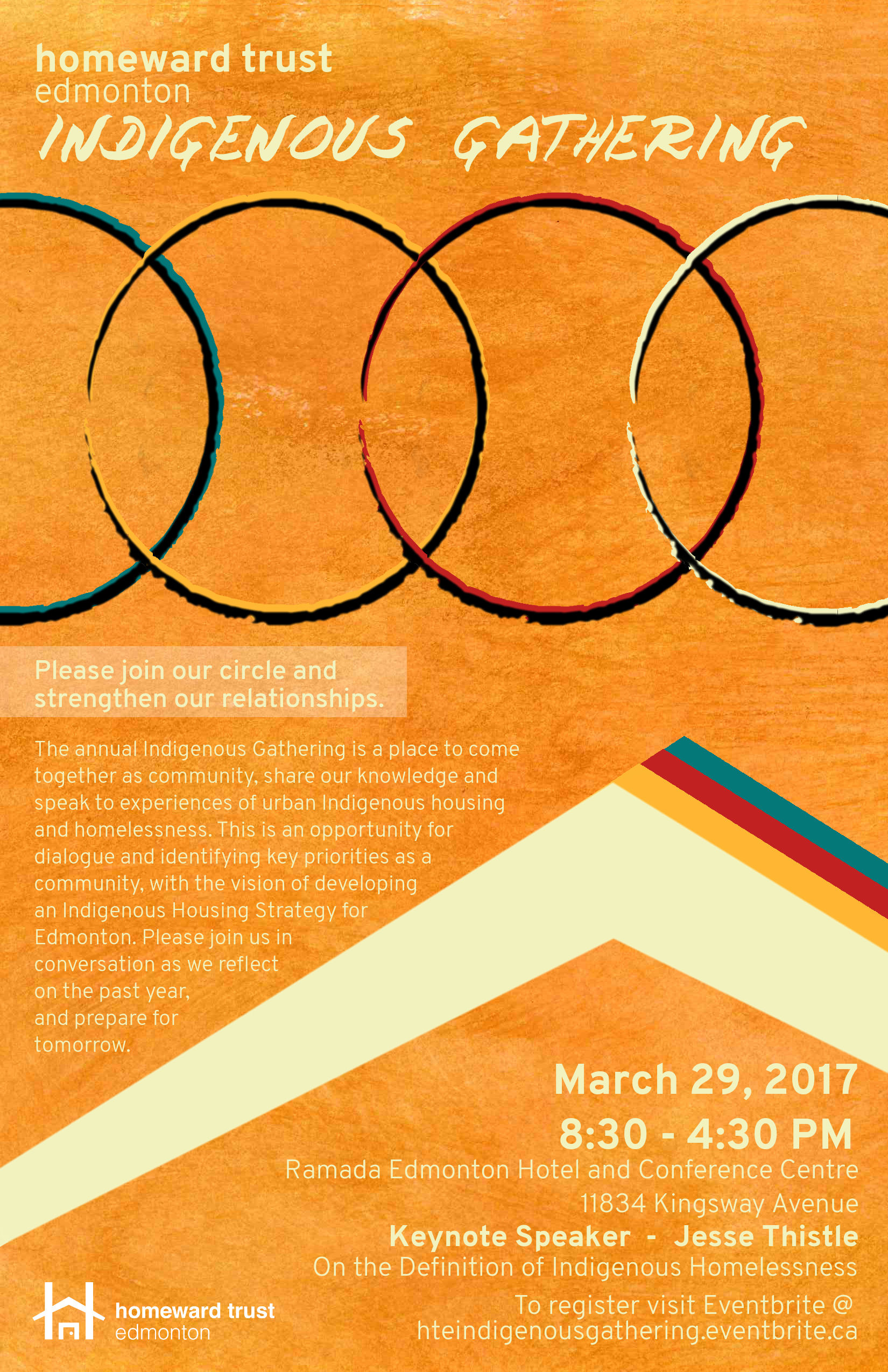 REGISTRATION & BREAKFAST
08:30AM – 09:00AM Registration and Breakfast
WELCOME/OPENING
09:00AM- 9:15AM Opening Prayer, Smudge & Morning Song
09:15AM - 09:30AM Message from Susan McGee, CEO Homeward Trust
09:30AM – 12:00PM Program
LUNCH & KEYNOTE SPEAKER
12:00PM – 1:00PM LUNCH
12:15PM – 12:45PM KEYNOTE SPEAKER – Jesse Thistle, Canadian Observatory on Homelessness.
1:00PM – 1:15PM Flash Round Dance
COMMUNITY ROUNDTABLE
1:15PM – 4:00PM
CLOSING
4:00PM – 4:15PM Closing Message from Susan McGee, CEO Homeward Trust
4:15PM Closing Prayer