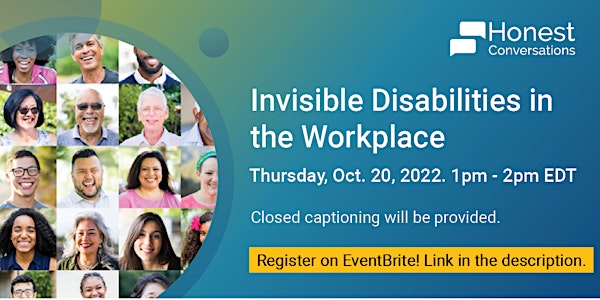 Honest Conversation: Invisible Disabilities in the Workplace
Let's have an Honest Conversation about invisible disabilities and learn how to build your organization's awareness of them.
About this event
According to Statistics Canada, one in five Canadians or 22% of the population has a disability. But not all disabilities are visible. So how do you, as an employer, support your employees with invisible disabilities in the workplace? Join us for an honest conversation to learn how to focus on building your organization's awareness of invisible disabilities. Help make your workplace more responsive to the needs of your diverse employees.
Featuring guest speakers from Good Foot Delivery:
Barb Willet, Managing Director;
Laura Staios, Job Development Specialist.
"Good Foot Delivery provides meaningful employment for the neuro-diverse community through a reliable, professional courier service delivered via public transit and on foot. When you choose our trusted Couriers for your delivery needs, you're also supporting inclusive employment."
Date: Thursday, October 20th, 2022
Time: 1:00 p.m. to 2:00 p.m.
Accommodations
This webinar will have Closed Captioning and American Sign Language (ASL) Interpretation.
If you require an accommodation, please contact Program Coordinator, Elizabeth Novak at ElizabethNovak@occ.ca