Honoring the Journey; Building Resilience during difficult times or loss
About this Event
If you are an end of life caregiver or family member going through grief or loss, or preparing for an upcoming loss or simply wanting more knowledge and support in this area, this experience is for you!
Featuring special Guest, The West Coast Medium, Amber Cavanagh
This workshop will help you:
Meet your self-care needs
Assist your loved one in this transition
Review the role of palliative care
Build resilience in processing difficult emotions with more ease and calm
What to Expect
Learn about what we experience at the end of life from the souls perspective.
Learn how to access your inner wisdom and the support that's always available to you.
Receive practical tools to help your body feel cared for and safe.
Discover ways to lovingly support yourself, to feel less stress and anxiousness.
Learn tools and techniques to help you to feel safe to lean into grief with more love
Honouring the Journey is for anyone who wants a deeper spiritual understanding of how to transform fear and suffering into grace and acceptance.
Purchase your ticket!
Water & light snacks will be served. Please bring a lunch if you require a meal.
Space is limited, save your spot today!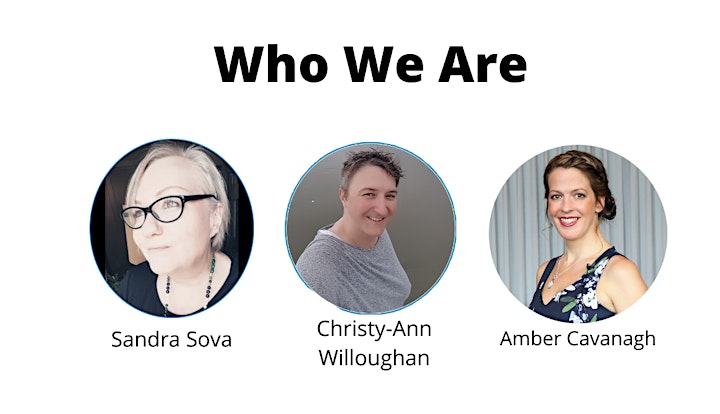 Hi, I'm Sandra I'm the host of the Chronic Wellness radio show which inspires listeners to be in the driver's seat when it comes to their health and wellness and to live an empowered thriving life. I'm also an autoimmune warrior, a breast cancer survivor and caregiver for my elderly mother. I regularly speak about the importance of self-care and provide tools and techniques to support well-being.
Hi, I'm Christy. I'm a RN with a medical background in end of life nursing care. I have the gift of empathy, topped with a zest for helping you remember your true self. I have a graceful way of guiding you back to peace while you get to totally melt.
My name is Amber and I am a typical mom with a unique gift. I am a medium. I am able to connect with people who have crossed over, to provide healing messages to their loved ones. I provide assurance to many that our loved ones continue to walk with us and guide us while on the other side.
Seating is limited, reserve your spot now.
For any questions or more information: email chronicwellnesstips@gmail.com or call/text 250-797-6333
Presented by Chronic Wellness & Integral Nursing and special guest Amber Cavanagh , the West Coast Medium.