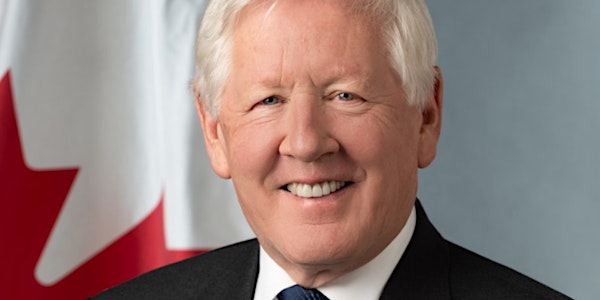 Honourable Bob Rae: Canada, the UN, & the Future of International Relations
The International Law Society at the University of New Brunswick is honoured to welcome Ambassador Bob Rae as the Speaker of the Year.
About this event
Canada's Role within the UN and the Future of International Relations: A Conversation with Ambassador Bob Rae
The Honourable Bob Rae is the Ambassador and Permanent Representative of Canada to the United Nations in New York. He was appointed to this role by Prime Minister Trudeau in July 2020 to continue the work of the outgoing Ambassador on efforts including the Sustainable Development Goals, peacekeeping and dispute resolution, human rights, and tackling climate change.
Mr. Rae's previous experiences provide invaluable contributions to Canada's involvement at the UN. In 2017, Mr. Rae was appointed as Canada's Special Envoy to Myanmar. In this role, he engaged in diplomatic efforts to address the country's humanitarian crisis and wrote the report "Tell Them We're Human" in 2018. In March 2020, he was named Canada's Special Envoy on Humanitarian and Refugee Issues. This led to his report "A Global Pandemic Requires a Global Response".
Mr. Rae also has experience in Canadian politics and the legal system. He was elected to federal and provincial parliaments 11 times between 1978 and 2013. Between 2013 and 2020 he was a law professor at the University of Toronto and was a partner and senior counsel at the law firm OKT LLP, specializing in Indigenous law and constitutional issues. He also served as the Chief Negotiator for the 9 First Nations that are members of the Matawa Tribal Council in Northern Ontario. Mr. Rae is a Senior Fellow at Massey College, the Raoul Wallenberg Centre for Human Rights, and the Forum of Federations.
Mr. Rae attended the University of Toronto where he obtained a history degree and a law degree. He also studied at Oxford University as a Rhodes Scholar. Mr. Rae is a Privy Councillor, a Companion of the Order of Canada, a member of the Order of Ontario, and Queen's Counsel. He has numerous awards and honorary degrees from institutions in Canada and around the world.
Join us on February 15th at 11:30 am Atlantic Time for an engaging discussion with Ambassador Bob Rae on various issues that impact Canada and the international community!
A Zoom link will be provided upon registration closer to the event date.