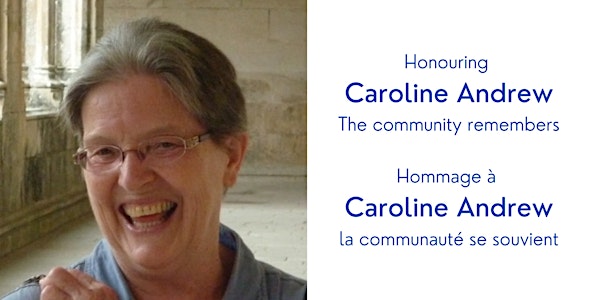 Honouring Caroline Andrew - Hommage à Caroline Andrew
Sharing stories and celebrating the life of an extraordinary woman Partager des histoires et célébrer la vie d'une femme extraordinaire
When and where
Location
Ottawa City Hall 110 Laurier Avenue West Ottawa, ON K1P 1J1 Canada
About this event
Friends and family are invited to attend the memorial service in honour of Caroline Andrew.
Jean Pigott Place, Ottawa City Hall
Jan 24th, 2023, 5:00 - 7:00 pm EST
Reception with light refreshments - 5:00 - 6:00 pm
Programmed Sharing: 6:00 - 7:00 pm
Masks are encouraged; please stay home if you have Covid-19 symptoms.
Les amis et la famille sont invités à assister au service commémoratif en l'honneur de Caroline Andrew.
Place Jean Pigott, Hôtel de ville d'Ottawa
Le 24 janvier 2023, de 17 h à 19 h
Réception avec rafraîchissements légers - 17h00 - 18h00
Partage programmé : 18h00 - 19h00
Les masques sont encouragés ; veuillez rester chez vous si vous avez des symptômes de Covid-19.
Bilingual event / Événement bilingue
Organized by / Organisé par
CAWI - IVTF (City for All Women Initiative / Initiative: une ville pour toutes les femmes ); Youth Futures - Avenir Jeunesse; Centre de ressources communautaires de la Basse-Ville - Lowertown Community Resource Centre, CRIAW-ICREF (Canadian Research Institute for the Advancement of Women / Institut canadien de recherches sur le femmes); OLIP-PLIO (Ottawa Local Immigration Partnership / Partenariat local pour l'immigration d'Ottawa); Women and Cities International - Femmes et Villes International; Inter Pares; Faculty of Social Sciences, University of Ottawa / Faculté des sciences sociales, Université d'Ottawa; Centre de recherche sur le futur des villes, Université d'Ottawa / Research Centre on the Future of Cities, University of Ottawa.