A panel discussion on the importance of telling the stories of our historical Black Canadian communities
About this Event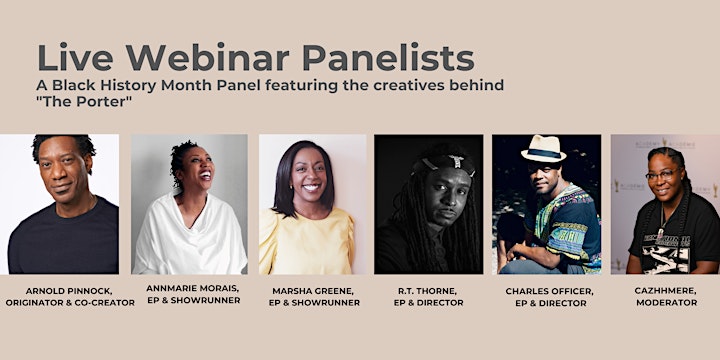 Reelworld is celebrating Black History Month 2021 with a panel discussion on the importance of telling the stories of our historical Black communities. 
The webinar will stream live on the Reelworld Youtube channel on February 18th at 2pm EST and will feature the Canadian creative team from upcoming CBC series The Porter: Arnold Pinnock, originator and co-creator; Annmarie Morais, executive producer and showrunner; Marsha Greene, executive producer and showrunner; Charles Officer, executive producer and director; and R.T. Thorne, executive producer and director. 
A gripping story of empowerment and idealism, The Porter highlights the period in history when railway workers from both Canada and the United States joined together to create the world's first Black union.
Featuring multiple Reelworld alumni, this virtual event promises to be an inspiring conversation between Black Canadians about the importance of honouring their history, sharing their community's stories and celebrating the historic successes of Black Canadians. 
The panel will be moderated by Cazhhmere, a 7th-generation Black Canadian and filmmaker who has addressed the importance of amplifying Black Canadian history through her own 2017 documentary Deeply Rooted.
Panelist Bios
Annmarie Morais, Executive Producer and Showrunner, The Porter
Born in the Caribbean, Annmarie Morais is a graduate of Toronto's York University Film and Video Production program, where she wrote and directed several short films while learning the craft of screenwriting under some of Canada's finest instructors. In 1999, Annmarie came to the industry's attention when she was the first Canadian to receive The Nicholl Screenwriting Fellowship, with her dramatic feature film screenplay, Bleeding.
Annmarie's inaugural feature film, How She Move, was a 2007 Sundance Film Festival Selection, and received worldwide release through US distributor Paramount Vantage in January 2008. Annmarie's work in television has proved equally noteworthy, having served as a writer on shows such as Hotel Babylon (VisionTV), Da Kink in My Hair (Global/CBS), Combat Hospital (Sienna, ABC), Haven (Syfy), Rogue (DirecTV), Killjoys (Syfy), Ransom (Global/Sienna, CBS), and American Soul for BET.
Arnold Pinnock, Originator and Co-Creator, The Porter
Arnold Pinnock has been a familiar face on the Canadian film and television scene for over twenty years. An accomplished and well respected actor and comedian, he began his career as a cast member with the world-renowned Second City Toronto. Arnold has been the lead in several acclaimed television series, most recently Travelers, Damnation, and Altered Carbon on USA/ Netflix.
Past work includes Disney's Life with Derek, ABC's Beautiful People, Showtime's Billable Hours, Combat Hospital for ABC and Global and The Listener for CTV. He has also been featured in films including Exit Wounds, Lars and the Real Girl, Bait, The Incredible Hulk, and Hard Powder, working with directors such Louis Leterrier, Antoine Fuqua, Clement Virgo and Andrzej Bartkowiak.
Charles Officer, Executive Producer, Director, The Porter
Charles Officer is an acclaimed writer, director, producer and founder of Canesugar Filmworks. A former creative director and graphic designer, his film works include the recent crime-noir Akilla's Escape (TIFF 2020) featuring Saul Williams and an original score by Robert Del Naja of Massive Attack. Officer's feature documentary film Mighty Jerome earned a 2012 Emmy and Unarmed Verses cemented his visual brand of storytelling winning best feature awards at Hot Docs, Vancouver International Film Festival and TIFF Top Ten Festival.
While balancing his passion for filmmaking, Officer also works as a director on acclaimed television series such as: Coroner, Ransom and 21 Thunder. From garnering record setting CSA Nominations for his debut feature Nurse.Fighter.Boy to his truth to power documentary that examines anti-black racism in The Skin We're In. Charles is committed to amplifying diverse stories that integrate the arts. He is a founding member of Canada's first Black Screen Office, and serves on the board of trustees at the AGO and Reel Canada.
Marsha Greene, Executive Producer and Showrunner, The Porter
Marsha Greene has written for numerous Canadian and American series including Private Eyes, Departure, Coroner, and Ten Days in the Valley. Marsha was a showrunner on the third season of the critically acclaimed drama Mary Kills People, for which she's earned three Canadian Screen Award nominations in Best Writing, Drama Series.
Marsha is a graduate of the Canadian Film Centre Prime Time Television program, holds an Honours BA in Creative Writing from York University, and has a graduate certificate from Humber College's TV Writing and Producing program, where she was awarded the Brian Linehan Award for Outstanding Artistic Promise. In 2020, Marsha received the WIFT-T Crystal Award for Creative Excellence.
R.T. Thorne, Executive Producer and Director, The Porter
To start 2019, R.T. directed Blindspot (WBTV), in New York city, and on location in Peru to Machu Picchu. He spent the rest of the year directing his own series, Utopia Falls, a genre bending science fiction/hip hop series, of which he is the creator, co-writer and executive producer. R.T. has directed television for Netflix, Disney, HULU and NBCUniversal. His international episodic work has taken him to three continents, earning him two Canadian Screen Award nominations and a Directors Guild of Canada nomination. R.T. is the most awarded music video director in Canadian awards history.