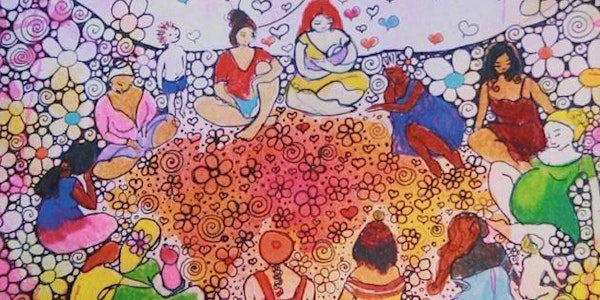 Honouring the Father-Daughter Relationship: Spiritual Care Circle For Women
Location
Canadian Memorial United Church & Centre for Peace
1825 W. 16th Ave (@ Burrard)
Vancouver, BC V6J2M3
Canada
A women-only spiritual care circle to honour each women's unique father-daughter story, includes meditation, sharing, reading & reflection.
About this event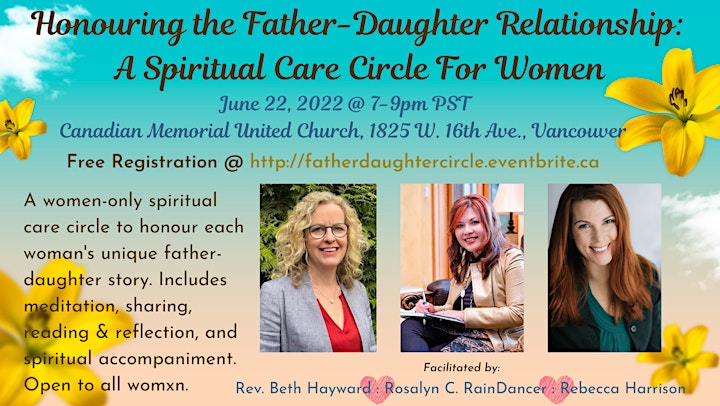 About the Event
Whether you were "daddy's little girl" and had a loving, adoring relationship with your father, or you grew up with a challenging father relationship, or you were fatherless altogether – or anything in between – we all carry a unique father-daughter story.
Fatherhood is a foundational relationship just as crucial to a child's development and well-being as motherhood. Especially for girls, neuroscience has shown that the father-daughter relationship is one that sets up the blueprint for how safe, secure, supported and successful she feels in the world as.
This women-only spiritual care circle is designed to be a safe and supportive space for you to explore how your father-daughter relationship has shaped who you are today. The experience will include time for centering meditation, authentic sharing, reading and reflection and spiritual accompaniment.
Discover the places in yourself that may need tender loving care and attention in order to catapult you to the next level of becoming the woman you were born to be.
Open to all women, including self-identifying womxn, especially BI&WoC members of non-binary, femme, transgender and LGBTQIA++ communities, as well as those not affiliated with the church or any faith organization.
Registration is free or by donation*.
Pre-registration required as space is limited.
* About the Fundraiser
In lieu of a workshop ticket, we invite to buy the book for yourself, a friend, sister, daughter, mother, girlfriend, wife, or another woman in your life whom you care about.
Books will be available for sale (& autograph!) at the event for a minimum donation of $20. Limited quantities available.
100% of book sales from this workshop will go to Canadian Memorial United Church's Refugee Sponsorship Fund.
For questions about buying the book outside of the event, please email redheadrebecca@telus.net.
Please Note
• The registration deadline is Wednesday, June 22, 2022 @ 12 noon (or until fully booked)
• Attendees are participating in this event at their own risk, and are required to abide by all COVID-19-related regulations enforced by the local health authority and the venue.
• If there are any changes to the public health orders prior to the event date, plans will be re-evaluated and adjusted accordingly.
Meet Your Facilitators
Rosalyn C. RainDancer
Business & Leadership Coach to BIPOC Entrepreneurs and Executives
Rev. Beth Hayward
Lead Minister, Canadian Memorial United Church
Rebecca Harrison
Best-Selling Author, Personal Trainer, Wellness & Nutrition Consultant