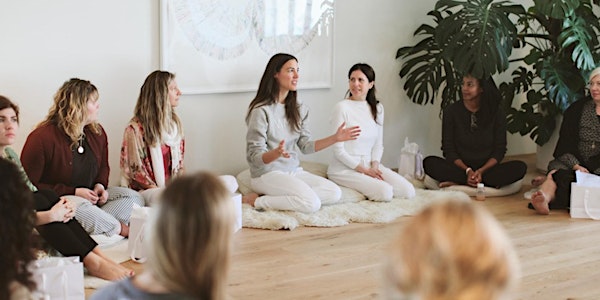 Honouring Your Journey Into The New Year - A Women's Circle
Refund policy
Contact the organizer to request a refund.
Eventbrite's fee is nonrefundable.
Honoring The Journey Into The New Year - A Women's Circle
About this event
Do you ever get caught up in the hustle that the New Year brings?
In the pressure of setting goals and becoming a "New You"?
Although starting off the New Year with goals and dreams has positive intentions sometimes it can feel like just another stressful thing on the 'To Do' list.
So many of us have fallen into the habit of setting goals and making promises to ourselves, fully aware that we won't follow through - but going through the motions anyway because that's 'what everyone does," or 'that's what I've always done.'
The power of actually transforming the way you experience your life is completely stripped away.
And yet...
You want to change things in your life, you want to experience more, show up in different ways, and make the New Year you're entering one that you can be proud of.
So is it possible to gather all the wisdom that the last year has offered,
to gain clarity on what you want from the new year, to express and process any apprehension you feel about how things will or will not change, without getting caught up in the feels of not being enough, and without the desire to give in to the hustle?
I have got good news...YES, it is!!!
Join me for an evening:
* To reconnect to your body and its wisdom
* To reconnect to your intuition and the plan that it has to move you to
what's next for you
* To gather the gifts and lessons the last year had for you and to
integrate them through gratitude ​
* And to process the feelings that come up as you think about 2022.
I can't wait to see you there Soul Sister,
XOXO
Meg
This event is hosted by Meg Heppner
Meg is a life coach, blogger, podcaster, hypnotherapist and event host that is passionate about walking with people who want more out of life than just the status quo!
She believes that life doesn't have to work out exactly the way we think it "should" in order to be enjoyed and that people don't have to be perfect in order to be loved.
She believes that we all have the voice of truth inside of us but sometimes it can be hard to hear. And most importantly that we must live between the tension of accepting the things we cannot change and taking massive action on the things we can!
Meg creates spaces where women can slow down and process all the things that are influencing and controlling their lives - their everyday thoughts, emotions, and the stories they have been telling themselves.
Spaces where they can look at their inner world, gain valuable insight and then reclaim their personal authority, and make conscious decisions that transform the way they experience their lives!
Through one on one coaching, group coaching and workshops Meg helps women show up in the world with more love, and less ego, more compassion, and less judgment, more vulnerability, and less shame, more emotional agility and less fear!
Meg is also the current Branch Director of South Surrey/White Rock for Happy Healthy women.
Meg lives in BC with her husband of 20 years, two teenage boys and their little dog Charlie.
To learn more about Meg and her business, visit her website ​www.megheppner.com