Description
The Hope in the City Luncheon presented by Flaman will take place on November 25, and will officially 'kick off' The Salvation Army's Annual Christmas Kettle Campaign.
The Salvation Army's Christmas Kettle Campaign raises funds for programs that provide support for thousands of Edmontonions at Christmas and throughout the year.
We are thrilled to introduce Chief Darby Allen, Fire Chief for the Regional Municipality of Wood Buffalo as our guest speaker for this year's event.
Individual seats are $100 each or tables of 8 are available for $800.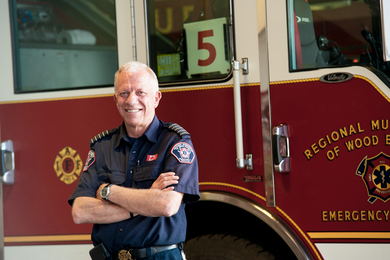 Darby Allen has been the Fire Chief for the Rural Municipality of Wood Buffalo since January 2013. In May 2016, he became the human face of the Fort McMurray wild fires. Chief Allen displayed immense grace under pressure during the wild fire crisis while describing himself as "…just a guy doing his job to the best of his ability."
Chief Allen is a native of England and began his firefighting career there in 1983. After immigrating to Canada, he joined the Calgary Fire Department where we worked in a number of roles until moving to Fort McMurray in 2009.
With the unstable economy, Edmontonions are turning to The Salvation Army now more than ever. Whether it is Christmas food hampers for families, free breakfasts for the hungry, summer camps for kids, or assisting Fort McMurray evacuees during their stay in Edmonton, The Salvation Army offers a hand up to our neighbours who are struggling to make ends meet. In addition to providing necessities and services, The Salvation Army endeavors to offer hope and help to all Edmontonions.