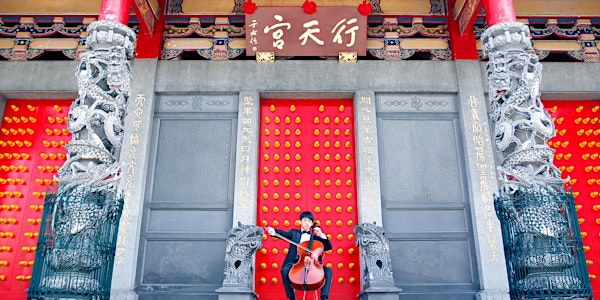 Hope Talk: Island's Young Cellist
When and where
Location
Annex 823 Seymour Street Vancouver, BC V6B 3L4 Canada
Refund Policy
Contact the organizer to request a refund.
Description
13 year old Jamie Chan is a self-proclaimed Cello and Classical music fanatic, playing in the Taipei Philharmonic Youth Orchestra. Whether at school or in the orchestra, he has a distinct air of maturity and elegance that is very different from the typical schoolchild.

Playing in the school orchestra from an early age, Jamie has often performed in temple celebrations. The frenzy of celebrations combined with the sophistication of classical music paint a very unique scene in Taiwan and showcases a distinct Taiwanese sound.

For Jamie Chan, his cello is his partner. His way to express himself. His way to speak without talking.

"Every time I play the first note, I feel like a hero in the moment." –Jamie Chan
自稱自己是大提琴狂熱份子與古典樂狂熱信徒的13歲台灣少年詹程安,是台北愛樂少年樂團的大提琴首席。程安長著一張有別於台灣同齡男生帥氣成熟的臉龐,搭配沉穩淡定的氣質;無論在學校或是樂團中,身邊常常圍著一圈少女與他開心談笑。大提琴對他來說,猶如最懂他的貼身夥伴,有些找不到適當言詞表達的話語,以及內心所有蘊藏的歡樂憂傷都在拉琴時,化為音樂緩緩飄揚在空氣中。不僅抒發難以言喻的情感,也釋放了腦海中竄出的無數想法。

從小加入學校樂團的程安,在台灣廟宇慶典時節,時常隨著樂團至廟口前義演。台灣在地的廟宇文化與西方古典音樂融合成特殊景緻,為古典樂揉合了草根活力,創造屬於台灣音樂的蓬勃生命力。

程安曾說:「當我拉起掌中隨想曲的第一個音符,覺得自己好像化身為英雄人物出場。」透過音樂,所有的想像都可能具象化為現實場景,演奏的當下開啟了只有表演者和聽眾共處的魔幻時空!