About this Event
REGISTER DIRECTLY AT YOGA FOR TODAY
780.416.4211
Event is at Yoga for Today - Park Centre & Hotel
2016 Sherwood Dr, #206, Sherwood Park, AB
*Use EAST doors, opposite hotel entrance
Friday, April 17 - 6:30 pm - 8:30 pm
Saturday, April 18 - 12:00 pm - 6:00 pm
ABOUT HORMONE YOGA THERAPY
Low levels of the main hormones in the body have a profound effect on living a full life at all levels; physical, mental, physiological and energetic. Because the hormones imbalance in our body affects our entire being, it is important that the glands are active and produce hormones in the right proportion for our body. Hormone Yoga Therapy (HYT) affects the body as a whole and it is working on the main glands; hypophysis, ovaries, thyroid, para – thyroid, adrenals. These glands are addressed in HYT by utilizinig internal massage and consciously directing the energy flow during each exercise.
Hormone Yoga Therapy (HYT) is a natural and holistic approach to reactivate hormones production, and to ease or eliminate the adverse symptoms of hormonal imblances. The imbalances may be related to PMS, infertility, peri-menopause, menopause, PCOS, irregular cycles, migraine, dry skin and more. This technique involves the practice of dynamic postures ( asanas), breathing technique (pranayama), concentration and visualization. This is a unique technique, that when practiced often can relieve and eliminate most symptoms of unbalanced hormones. "
Women who have attended this course and continue to practice hormone yoga therapy, often have corrected hormonal imbalances in the body. Certain women with infertility problems also seen benefits, as a result of regular practice of hormone yoga, got pregnant and gave birth to their desired baby, some have resumed their cycle after years, recovered from diagnoses of premature menopause, polycystic ovary syndrome, fibroids and painful menstruation. In this two-day course, you will get to know and learn in detail a set of 21 exercises that help women solve hormonal imbalance problems naturally. The sequense is dynamic and with regular practice it leads to quick results. You will also learn several ani-stress and calming exercises, different types of breathing technique and yoga-nidras. The cost of the course includes all study materials, support and follow up after the course.
After completing this two-day course,
You will be ready to continue exercising at home according to the materials you receive. The hormone yoga therapy practice is very simple and does not require any previous yoga experience. Once learned, it takes only 30 minutes to practice. To get good results Hormone Yoga Therapy needs to be practice regularly, ideally 3 – 4 times a week, depending on your symptoms.
About the teacher Corinne of – Hormone Yoga Therapy;
Corine says;
"Yoga has provided me with a set of tools that allow me to live as authentic as possible, and I like to share them in my yoga classes. Yoga keeps me strong, flexible and offers me peace and energy. I have been closely working with women as prenatal and postnatal yoga teacher and also as a woman, I understand our needs, therefore , I extended my practice with women in guiding them and teaching a unique method - Hormone Yoga Therapy , to bring and keep women's hormones in balance. I trained and certified in Hormone Yoga Therapy for Women by the creator of the method, Dinah Rodrigues".
CONTRAINDICATIONS:
✔ Pregnancy
✔ Breast cancer hormone dependent, before or after surgery
✔ Advanced endometriosis
✔ After surgery of aesthetic breast, only with medical liberation for exercises
✔ People with severe psychiatric problems
✔ Cancer hormone dependent, before or after surgery
Please get in touch in case you are interested in attending this course and do not find a suitable date here.
FB: https://www.facebook.com/lotusmoonyog/
Email: corinne@lotusmoonyoga.ca
https://www.lotusmoonyoga.ca
With Love.
Corinne x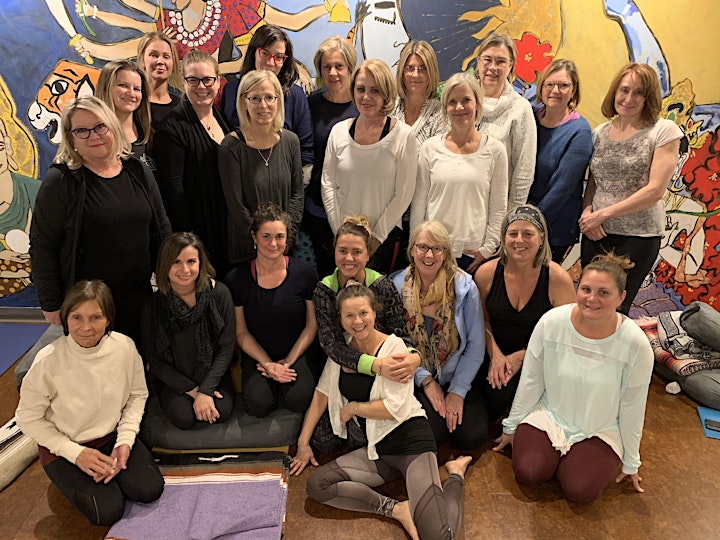 Here is a group shot of the last Calgary workshop at Yoga MCC. Hundreds of women are finding their symptoms of unbalanced hormones are being resoloved by learning and practicing this method.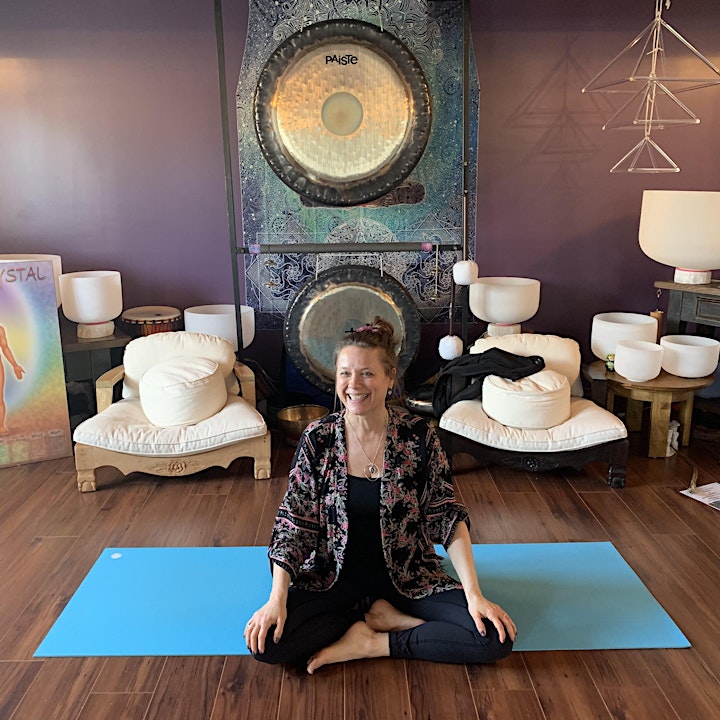 Meet Corinne, one of very few teachers in North America who is certified by the founder Dinah Rodrigues to teach HY
Here is an example of a Hormone Yoga Workshop