Join our 4-Part series to educate yourself on hormones and how they affect your weight. Learn to feel better naturally.
About this event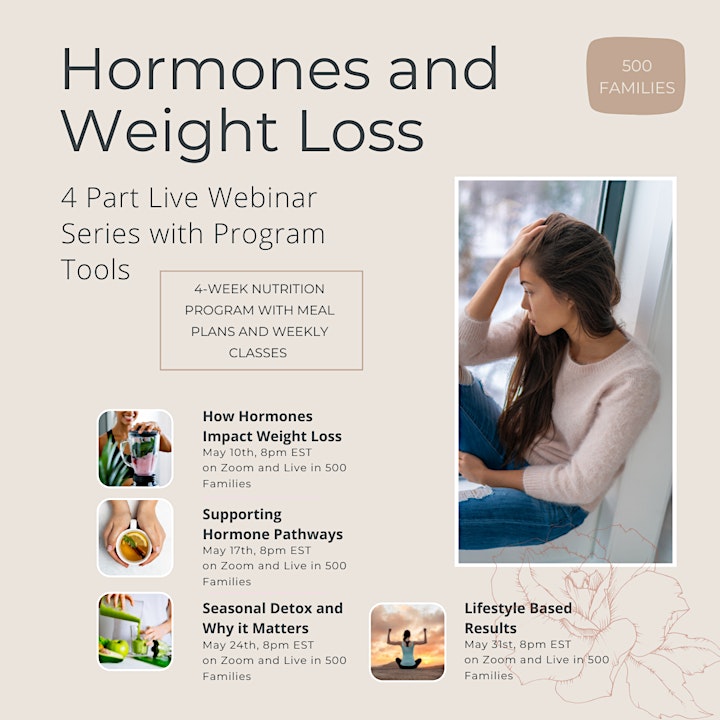 Calling all women looking for hormone balance help, help with reducing cravings, help with a better mood, help with ditching weight and of course feeling fantastic over 40 or shall I see soon to be approaching 46!
Lets ditch the cravings.
Lets support the brain.
Lets increase energy without caffeine that will have you crashing.
And lets avoid needing that pick me up between 3-4pm when you would normally crash.
This month our wellness community is hosting a 4-Part Live Webinar Series with Program Tools.
What you will get:
Lead by my friend and colleague Alisa Herriman, an award winning Nutritionist.
4 incredible classes. [FREE]
4-week nourishing meal plan [FOR SUBSCRIBERS ONLY]
3-week adrenal support meal (the glands responsible for your stress response, energy, role in hormones). [FOR SUBSCRIBERS ONLY]
Weekly guides and handouts. [FOR SUBSCRIBERS ONLY]
Recipe guides. [FOR SUBSCRIBERS ONLY]
Anyone of you who is interested may come to the weekly live classes for free! If you want to join the entire program, please text Tina @ 807-626-0050 for requirements.