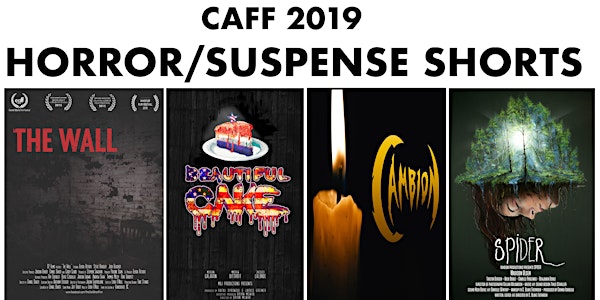 HORROR / SUSPENSE SHORTS
When and where
Location
Carnival Cinemas 5402 47 Street Red Deer, AB T4N 6Z4 Canada
Description
CAFF Rating Mature, violence, blood, sexual content
Spider: Short Narrative
Jennifer Lear spends her days and nights escaping from her family farm and far out into the wilds. She sees beauty in entropy and even romance in the sometimes vicious methods of nature.
Director: C. Blake Evernden
The Wall: Short Narrative
When Jesse's wife Brittany walks out on him after an explosive fight, he confides in his brother, Mark, about their troubled and unfaithful relationship. Brick by brick, Jesse and Mark piece together the nights' prior in hopes of uncovering his wife's whereabouts.
Director: Daniel Baker
Beautiful Cake: Short Narrative
Two high school students sneak into the seemingly abandoned mansion of the neighbourhood legend 'Donny'. Believing him to be gone or even dead, they soon find that he is very much alive when he locks them in his basement.
Director: Jarvis Greiner
Cambion: Short Narrative
On a regular Friday night, three friends decide to stay in and play an innocent board game. Things quickly take a turn for the worse as they channel an unspeakable evil.
Director: Charlie Christensen