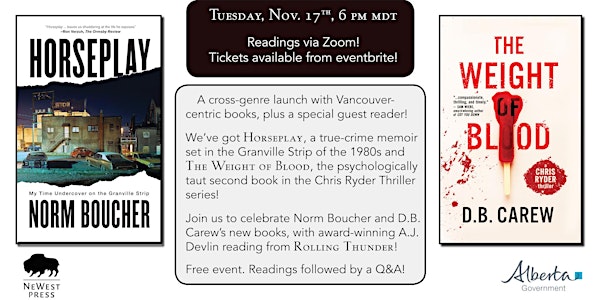 Horseplay and The Weight of Blood Double Launch!
Two book launches, Norm Boucher's Horseplay and D.B. Carew's The Weight of Blood, with special guest reader, A.J. Devlin!
About this event
A cross-genre launch with Vancouver-centric books, plus a special guest reader!
We've got Horseplay, a true-crime memoir set in the Granville Strip of the 1980s and The Weight of Blood, the psychologically taut second book in the Chris Ryder Thriller series!
Join us to celebrate Norm Boucher and D.B. Carew's new books, with award-winning A.J. Devlin reading from Rolling Thunder!
Free event. Readings followed by a Q&A!
Link will be sent to you by email: make sure to scroll down to the bottom of the email for the link.
If you have any issues with the link, email us at production@newestpress.com.