Hospice Huntsville Fundraiser: s'mores bar, music, magic and s'more...
About this Event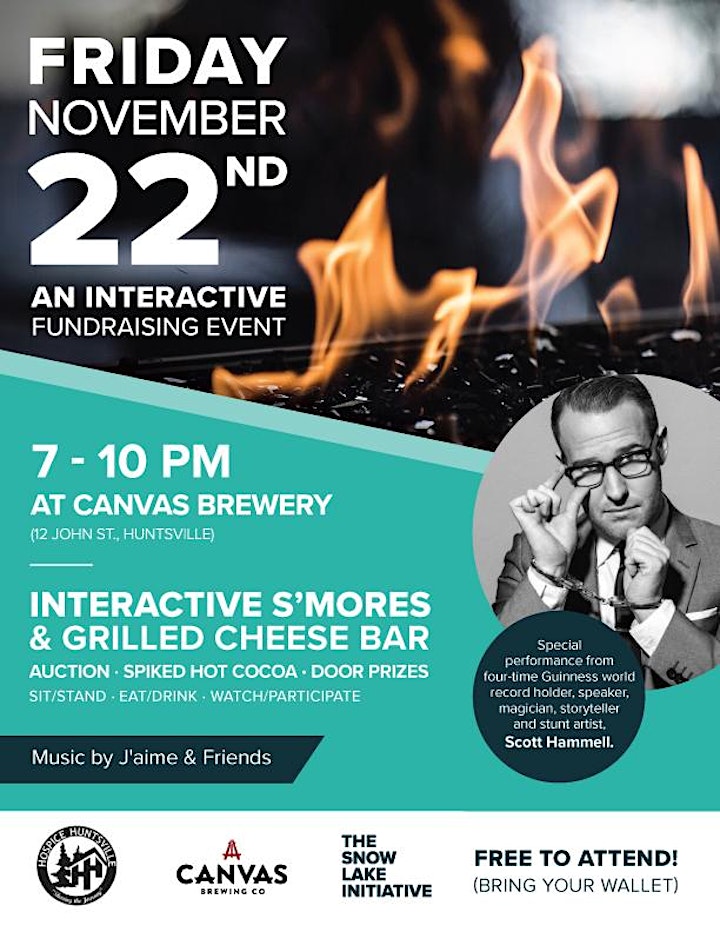 When: Friday, November 22nd 7-10 PM
Where: Canvas Brewery (12 John St. Huntsville)
Cost: Free to attend, but bring your wallet ;)
Features:
Free Interactive S'mores Bar (Vegan & GF friendly)
Interactive Grilled Cheese Bar (Vegan & GF friendly)
Live Performances by J'aime & friends!
Special Performance from Scott Hammell- a four-time Guinness world record holder, speaker, magician, storyteller and stunt artist.
Auction (toonie & silent!)
Canvas Beer
Spiked Hot Chocolate
Door Prizes & more…
------------------------------------------------
A letter from J'aime:
I was born and raised in Huntsville, and if you don't know me personally, it's likely you'd recognize one of my many family members; having five aunts on the Ouderkirk side, and 16 great aunts and uncles on the Payne side, Huntsville has always been home. I returned to Huntsville from Toronto last year to launch a new national art company designed to help support my fellow creative artists across Canada. We've been operating out of Huntsville for just over a year now, and through generous partnerships with Soapstones Natural Skincare, MBRP Inc, Brendish Computers, Huntsville Festival of the Arts & more, we've been able to make some fantastic impact, both locally and nationally.
In 2015, under the mentorship of my grandpa, Lyle Payne, we threw a Fundraiser called "You Are Not Alone". Together we brought together many local businesses and raised $7,500 which was donated to the chemo unit and used to purchase 10 tablets. At the end of Lyle's battle with cancer, our family was able to celebrate and honour the man we loved under the Hospice Huntsville roof. In August 2019, our family was blessed yet again with the generosity of Hospice Huntsville as we said goodbye to Don Ouderkirk, my mother's father, an amazing man of 91 years young. Both of my grandfathers were amazing, generous and kind men with creative spirits. Lyle was ahead of his time, carving candle holders out of rocks he gathered along the shore of Snow Lake. Don was a skilled woodworker and guitar player whose talents have been passed on from generation to generation.
On November 22nd from 7 - 10 PM, I'll be hosting an interactive fundraiser at Canvas Brewery. This night will feature live music (by yours truly), an auction, an indoor s'mores bar and grilled cheese bar, light-hearted competition, complimentary hot chocolate, a special performance from Scott Hammell and more.
50% of net proceeds will be donated directly to Hospice Huntsville. The other 50% will be donated to The Snow Lake Initiative to help assist with the development of a new program. This program will encourage our members to put on fundraisers in their local communities and utilize their talents to create positive impact.
www.thesnowlakeinitiative.ca
https://www.thesnowlakeinitiative.ca/hospice
www.scotthammell.com