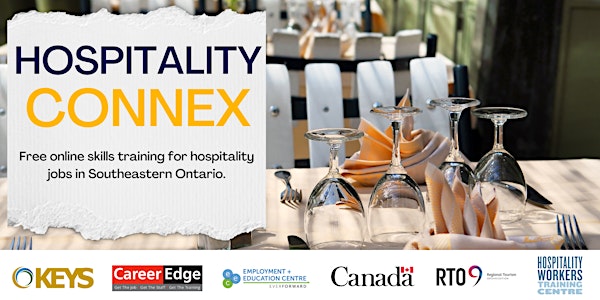 Hospitality CONNEX
Connecting you to hospitality jobs across Southeastern Ontario through free online skills workshops on June 13, 14 and 16, 2022.
About this event
Hospitality CONNEX is comprised of 3 workshops. You are welcome to register for 1, 2, or all 3 of the following:
Hospitality Bootcamp
June 13, 2022 - 10:00am-5:00pm
Led by a team of instructors and coaches with 100+ years in hospitality between them, HWTC's Hospitality Bootcamp will help prepare you to successfully join the workforce in new or similar hospitality roles. In this free one-day online workshop you will explore your transferable skills, freshen up your soft skills, identify the best ways to work with new colleagues and customers, and prepare for work in a changed market.
Safe Workplace Essentials
June 14, 2022 - 10:00am-5:00pm
Led by an accomplished team of instructors with 100+ years in hospitality between them, this free one-day online workshop will help you understand today's expectations for safe hospitality workplaces. Topics include the Ontario Health and Safety Act (OHSA), Access for Ontarians with Disabilities (AODA), Unconscious Bias and Cultural Awareness, Workplace Violence and Harassment, and Workplace Hazardous Materials Information System (WHMIS). These skills are essential in creating a healthy and safe workplace and participants will receive a WHMIS certificate of completion upon successful graduation.
Customer Service Superstars
June 16, 2022 - 10:00am-5:00pm
In this free one-day online workshop you will learn from a team of instructors and coaches with 100+ years in hospitality between them, who will help prepare you for customer service success in the post-Covid-19 workplace. With their guidance, you will refresh basic customer service skills, explore the importance of teamwork in a customer service environment, address cultural awareness and unconscious bias, learn to manage complaints and difficult customers, review phone and email etiquette, and develop a mindset that supports customer service excellence in any field.
Who should attend these workshops?
While no previous experience is required, participants should be interested and available for work in hospitality. Workshops are open to anyone 18 years or older who is a resident of Ontario, eligible to work in Canada, and currently unemployed or working part time (less than 20hours per week).
What happens next?
Once you've booked your workshop through Eventbrite, someone from Hospitality CONNEX will contact you within two business days to finalize your registration and explain how, after your workshop, we will connect you directly to employers in your area who are hiring.
Are these workshops really free?
Absolutely. There is no cost to attend any Hospitality CONNEX workshop. After you complete your registration with one of our staff members, you will be given an access link to your online workshops.
What do I need to take part in these online workshops?
Participants should have access to a reliable internet connection and a computer, tablet or smartphone with Zoom video enabled. You are also encouraged to bring a copy of your resume. Ask about our free resume preparation service.
About us:
With almost 20 years of experience, HWTC is a trusted provider of best-in-class hospitality training programs for new entrants and seasoned industry professionals. To learn more about HWTC's training programs visit hospitalitytrainingcentre.com/training.
Presented by Hospitality Workers Training Centre, KEYS Employment Services, Career Edge, Employment + Education Centre, and RTO9.