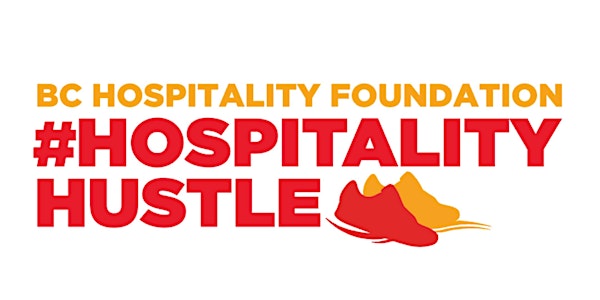 #HospitalityHustle 2022
A province-wide, 40-day challenge uniting British Columbians to raise awareness for the Foundation and promotes healthy lifestyle choices.
About this event
The BC Hospitality Foundation invites you to join this year's #HospitalityHustle. Help us unite British Columbians to raise awareness for the Foundation, promote healthy lifestyle choices, and have some fun.
When: April 19 – May 29 (40 days!)
Where: Living rooms, driveways, and outdoor spaces across British Columbia
Distance: Help us log 16,608 km*
*Why this number? It takes 5,536 km to complete our route around BC. (But we like a challenge and think we can triple that!)
Fundraising goal: $20,000 - average cost to support 4 Beneficiaries (2021 Beneficiary stories)
How to get involved?
1) Sign up!
2) Challenge your friends and family members
3) Set a fitness goal and choose any form of physical activity you wish:
Basketball, Biking, Dancing, Gymnastics, Hiking, Running, Swimming, Tennis, Walking, etc.
The average person walks 4km per day
On average 4km is equal to 40 minutes
In 40 days, you could log 160 kms or 26.6 hours of exercise!
*We know some of you are natural-born athletes but for those of us that prefer buns of cinnamon to buns of steel… we'll meet you just above average! Mmm…cinnamon!
4) Submit your completed minutes or km's weekly
Help BCHF achieve our goal of uniting communities across British Columbia. Our progress map will be updated weekly with the accumulated efforts from participants to see how far we can go.
5) Post a donation request
Encourage your friends and family to donate to BCHF to support our fundraising goal. Social media images and suggested content will be provided. It's easy, just copy and paste.
6) Share your progress and HAVE FUN!
Exercising with friends is way more fun. Share your progress and tag #HospitalityHustle to connect with other participants.
7) Join us at the Finish Line Sunday May 29 at 7pm
We have some fun prizes to give away!
What is the BC Hospitality Foundation?
A registered charity that raises funds to support those in the hospitality industry facing a financial crisis due to a health condition to themselves or a family member.
In addition, we offer a scholarship program to foster the development of the next generation of workers and industry leaders.
Why is this important?
1. Liquor and Hospitality is the 4th largest private-sector employer in British Columbia
2. 190,000+ workers employed every year
3. Hundreds of hospitality workers across BC face medical-related financial challenges and have nowhere to turn.
5 Reasons to Support BCHF
1. Over $1 Million raised to help beneficiaries since 2008
2. The only charity of its kind in Canada
3. NOT government-funded
4. Help those when they need it most - quick access to funds
5. Identify future leaders through our scholarship program