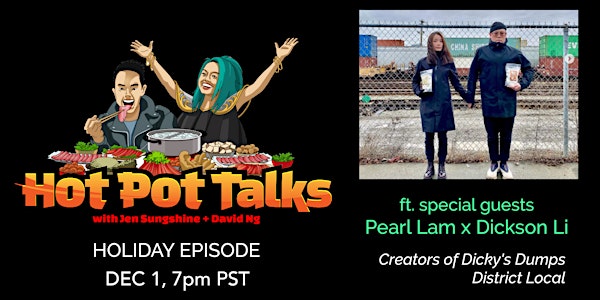 HOT POT TALKS! Holiday Edition ft. District Local & Dicky's Dumps
Join Hot Pot Talks hosts Jen Sungshine and David Ng featuring guests Pearl Lam and Dickson Li (founders of Dicky's Dumps and @DistrictLocal)
About this event
We're back for a special holiday episode!
Join Hot Pot Talks hosts Jen Sungshine and David Ng featuring guests Pearl Lam and Dickson Li (founders of Dicky's Dumps and @DistrictLocal), on a special holiday edition! In this episode, we talk to Pearl and Li about their story starting a business during COVID, as well as diasporic Asian culture in Vancouver, family traditions, and of course, our favourite hot pot ingredients!
Pearl and Dickson also contributed a homemade ginseng chicken soup recipe to the 2022 MAU Calendar, which is a long term artist-initiated project that aims to re-imagine the way souvenirs function as objects and as vehicles to examine lesser-known local histories, cultural identities, and issues affecting the future of Vancouver's Chinatown.
Now in its fourth year, the MAU Calendar continues to capture a contemporary portrait of the community while showcasing the work of local artists, community members, social service organizations and businesses. In 2021, VALU CO-OP took over MAU from founder Elisa Yon to carry on the future of the beloved project.
There will be a bunch of free prizes that we will be giving away during the live stream, so join us on Dec 1st at 7pm PST!
To purchase the 2022 MAU Calendar, please visit this link.
------------------------
BIOs
Dickson and Pearl are HK-born, longtime Vancouverites. Together and separately, they have been championing community and culture here in Vancouver — Dickson through cooking and feeding loved ones, Pearl through creating District Local as a passion project. Dicky's Dumps was conceived at a District Local-run Lunar New Year event in 2018, celebrating Chinese heritage while bringing the community together, and sharing the culture in a fun way with those who may or may not have grown up with it. Their small-batch, handmade frozen dumplings continue to delight dumpling connoisseurs — rooted in tradition and guided by their unwavering appetites. To order, visit dickysdumps.com and follow @dickysdumps | @districtlocal
ABOUT CO-HOSTS:
Jen Sungshine is a queer Taiwanese-Canadian interdisciplinary artist/activist, community facilitator, and cultural producer based in Vancouver, BC. She is the Co-Artistic Director and Co-founder of Love Intersections, a media arts collective producing intergenerational + intersectional QTBIPOC stories through documentary film. Her most recent works include Yellow Peril: Queer Destiny (2019), winner of the Gerry Brunet Memorial Award for best BC Short; and visual arts exhibit, Yellow Peril; Celestial Elements (2020) at the SUM Gallery. She is a co-producer of CURRENT: Feminist Electronic Art Symposium and currently serves on the board of Vancouver Artists Labour Union Cooperative (VALU CO-OP). www.jensungshine.com
David Ng is a queer, feminist, media artist, and co-founder of Love Intersections. His current artistic practices grapple with queer, racialized, and diasporic identity, and how intersectional identities can be expressed through media arts. His interests include imagining new possibilities of how queer racialized artists can use their practice to transform communities. His work has also recently included collaborations with Primary Colours / Couleurs primaires, which is a national initiative to put Indigenous arts practices at the centre of the Canadian art system through the leadership of Indigenous artists, supported by artists of colour.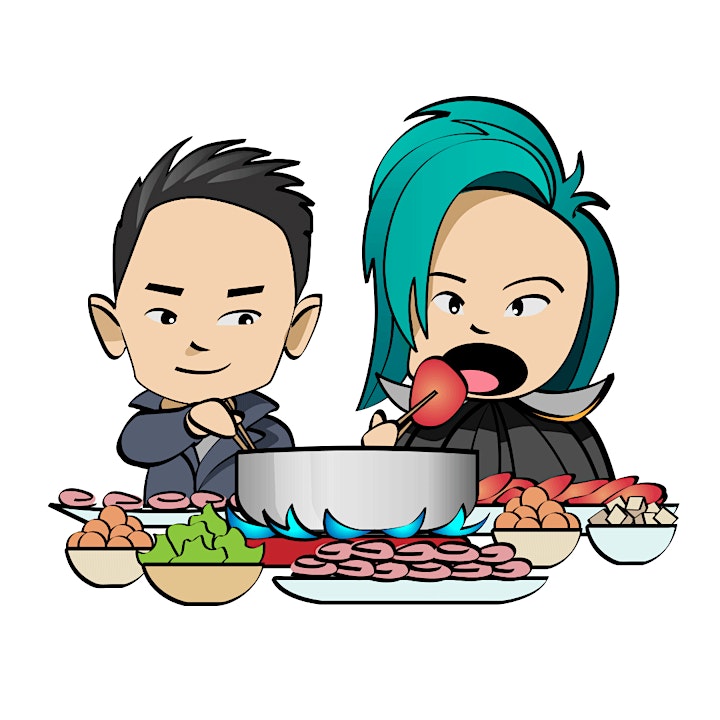 Organizer of HOT POT TALKS! Holiday Edition ft. District Local & Dicky's Dumps