Description
Tropical Desserts Workshop |

Hot

Topics

- Dialogue & Culinary Arts

Sri Lankans Without Borders is inviting Young Professionals and SLWB well-wishers to a fantastic Hot Topics culinary workshop on

Sunday, March 9th at noon

.


This is an exclusive event with limited seating to ensure an intimate interactive session. Only registered guests will participate.
This is SLWB's dessert edition of
Hot
Topics
involving interactive culinary workshop and a discussion-filled lunch
conversion
on various
topics
including identity, culinary culture and how it can build bridges and facilitate sustainable inter-community development. Conversations will be in the usual
Hot
Topics
event format of casual and interactive dialogue.
Guided by a chef facilitator,
10 teams will start the morning with an interactive culinary workshop making island favorite tropical desserts. This ice-breaker cooking session will lead into a lunch time hot-topics discussions facilitated by SLWB team members.


In an effort to facilitate dialogue via creative artistic forms, Sri Lankans Without Borders is putting together this unique series for anyone who wants to explore Sri Lankan Culinary Culture.
Seats are limited. Please click on eventbrite link to reserve your spot.
REGISTER HERE:
http://

hot

-

topics

-brunch.eventbrite.ca/
$16.89 per ticket including buffet lunch.
Your's truly,
Sri Lankans Without Borders Team
info@slwb.ca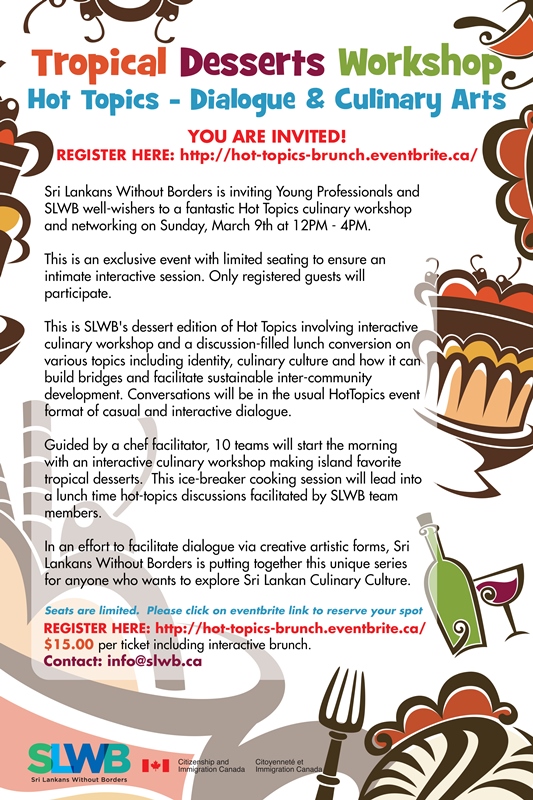 Organizer of Hot Topics -- Tropical Desserts Culinary+Dialogue Workshop
Sri Lankans Without Borders (SLWB) is a growing not-for-profit network based in Toronto that provides young Canadians of Sri Lankan origin with opportunities to connect, build and lead initiatives that promote dialogue, reconciliation and peace in the diaspora community in Canada and for all communities in Sri Lanka.
We are committed to building a democratic and inclusive space where Canadians of Sri Lankan origin can come together, regardless of political, ethnic or religious differences, to understand, acknowledge and stand in solidarity with each other in order to bring about meaningful peace, justice, truth and reconciliation for all communities in Sri Lanka.