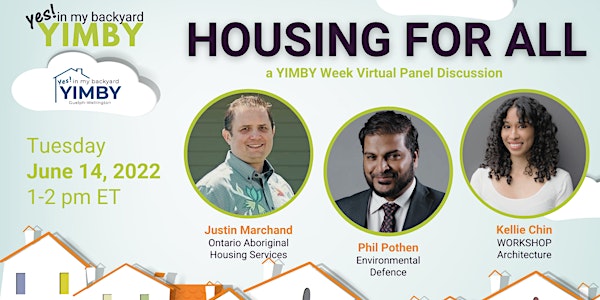 Housing for All: A YIMBY week virtual panel discussion
Housing for All: a virtual panel presented by YIMBY Guelph & Wellington and YIMBY Simcoe County
About this event
Who is getting left behind in this housing crisis? How does sprawl impact me? Is there a way to do intensification that isn't so scary?
Presented by YIMBY Guelph & Wellington and YIMBY Simcoe County, join us to hear from experts on these questions and more as we explore the many benefits of "infill" development instead of sprawl.
Justin Marchand is Métis and was appointed Chief Executive Officer (CEO) of Ontario Aboriginal Housing Services (OAHS) in 2018. Prior to that, he held the titles of Director of Corporate Operations and Programs Delivery Manager and has been with OAHS since 2009.
Justin has 20 years of progressive experience in a broad range of sectors including two publicly listed corporations, a large accounting and consulting firm, and a major crown corporation, and holds numerous designations across financial, operations, and housing disciplines.
He was most recently selected as Chair of the Canadian Housing and Renewal Association's (CHRA's) Indigenous Caucus Working Group and is also board member for CHRA. Justin is also an active board member for both the Coalition of Hamilton Indigenous Leadership (CHIL) as well as Shingwauk Kinoomaage Gamig, located in Bawaating.
Justin believes that Housing is a fundamental human right and that when Indigenous people have access to safe, affordable, and culture-based Housing this provides the opportunity to improve other areas of their life.
Phil Pothen is a Toronto planning and environmental lawyer serving homeowners, architects, builders, developers, concerned neighbours and community groups in East York, southwest Scarborough and the old City of Toronto.
A former crown counsel with the Ministry of Environment, the Ministry of Natural Resources, and Ontario's central litigation office, he offers a range of planning law advice and advocacy, including zoning and heritage property assessments, building permit applications, committee of adjustment appearances, environmental permit applications, and rezoning applications.
A graduate of the University of Toronto's Master of Landscape Architecture program, Phil is uniquely placed to provide legal advice and representation that supports innovative and context-sensitive design.
Phil has extensive volunteer experience with neighborhood associations, non-governmental organizations, and charitable boards.
Kellie Chin is an Architect at WORKSHOP with an interest in promoting social responsibility and invigorating local communities. She has completed various buildings in Toronto as well as projects with Toronto's Shelter, Support & Housing Administration, working on the new Rapid Housing Initiative, and 1000 Shelter Beds Project
With an interest in housing equity, she contributed to work published in the book House Divided and Azure Magazine. Most recently, she co-authored The Case for Compassionate Design in Housing Standards, an independent project to research the connection between health and housing published by Spacing.