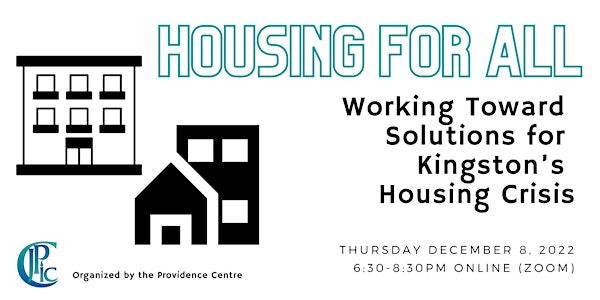 Housing For All: Working Toward Solutions for Kingston's Housing Crisis
In this webinar, you will learn about housing-related groups and projects in Kingston, what they are working on and how to get involved.
About this event
Do you believe housing is a human right? Would you like to work towards better housing conditions for all? Do you want to get involved with like-minded individuals? If you answered yes to the previous questions, we have the perfect webinar for you!
The Providence Centre invites you to attend a collaborative webinar on Thursday, December 8 at 6:30pm. Attendees will hear from local groups that are working on solutions and interventions for the local affordable housing crisis. In the first part of the webinar we will hear from several groups about their innovative projects related to policy advocacy, tenant organizing, unhoused solidarity, and alternative housing development. In the second part, you will have the opportunity to learn more about the projects and how to get involved. The webinar will end with a conversation on the potential for a housing coalition in Kingston.
Participating groups include:
Just Recovery Kingston
Luke's Place Kingston
Mutual Aid Katarokwi Kingston's Unhoused Solidarity Group
Our Livable Solutions – Sleeping Cabins Project
PSAC 901 Affordable Housing Working Group
Social Planning Council's Displacement Project
Support Not Stigma Project
More to be announced!
All are welcome! Please register for the session here. We look forward to seeing you then!
For more information contact Sayyida Jaffer, Providence Centre Lead for Justice and Poverty Reduction at sayyida.jaffer@chco.ca or 613-539-8594.