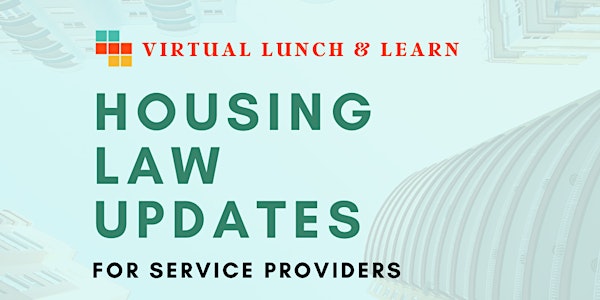 Housing Law Updates Lunch & Learn - November 2021
We invite you to this second lunch and learn to discuss the recent changes to Ontario's housing laws.
About this event
This is a lunch and learn session for those who could not attend our Housing Law Updates Lunch & Learn on October 20, 2021. This presentation will be presented by staff lawyer Kristen Thompson.
This virtual presentation is a lunch & learn session reviewing the rights of a tenant in rental housing in Ontario and the eviction process, including eviction considerations during the pandemic.
The presentation will also discuss changes made to the Residential Tenancies Act, 2006 that became effective as of September 1, 2021 including:
- A landlord can now make claims to the Landlord and Tenant Board against a former tenant for rent arrears and damage;
- Rent increases in 2022; and,
- How recent Residential Tenancies Act changes may help to address bad faith evictions for Landlord/Purchaser own use applications (N12) and eviction for repair of the rental unit (N13).
You will receive an e-mail providing the Zoom meeting link after you have registered.