Local experts share ideas and showcase a variety of first-hand experiences and knowledge on the effects of housing on specific themes.
About this Event
Housing &
These webinars are being held within the context of our Housing for All project, with the first objective of facilitating and empowering the West Island community to share their knowledge of current housing issues. This will stimulate brainstorming and enable residents and local stakeholders to co-create solutions for more diverse housing opportunities suitable for the West Island context.
Housing & Politics
Monday, November 23rd, 2020 at 11:00am.
Panelists
Francis Scarpaleggia, Member of Parliament for Lac-Saint-Louis
Benoît Langevin, City Councillor for Pierrefonds-Roxboro
Simon Mammone, Development Manager at Groupe CDH
Details to join the webinar on Zoom are shared upon registration.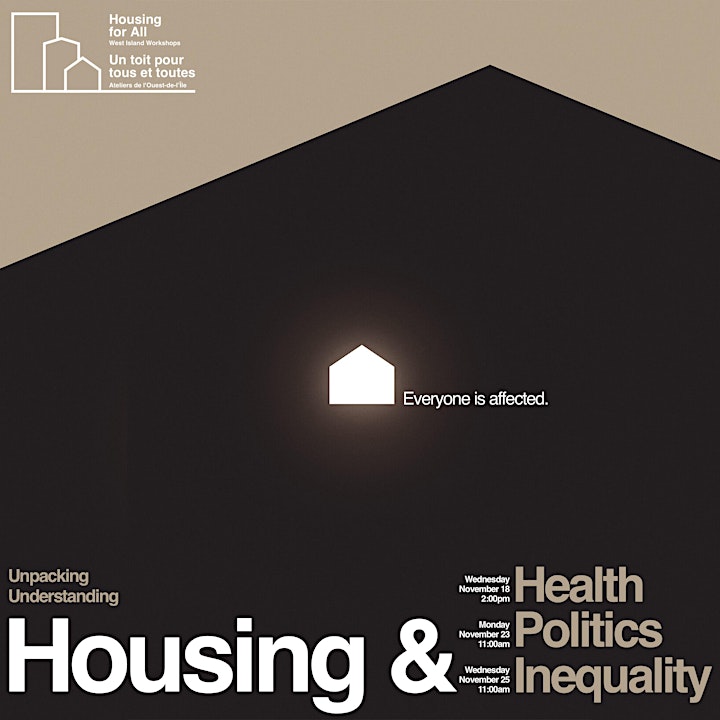 Logement &
Ces webinaires sont organisés dans le cadre de notre projet Un logement pour tous et toutes, avec pour premier objectif de faciliter et de donner les moyens à la communauté de l'Ouest-de-l'Île de partager ses connaissances sur les problèmes actuels de logement. Cela stimulera le brainstorming et permettra aux résident.es et aux acteurs et actrices locaux de co-créer des solutions pour des opportunités de logement plus diversifiées et adaptées au contexte de l'Ouest-de-l'Île.
Logement & politique
lundi 23 novembre 2020 à 11h00.
Panélistes
Francis Scarpaleggia, Député pour la circonscription de Lac-Saint-Louis
Benoît Langevin, Conseiller de la Ville pour Pierrefonds-Roxboro
Simon Mammone, Chargé de développement à Groupe CDH
Les détails pour joindre le webinaire sur Zoom vous sont partagés au moment de votre inscription.