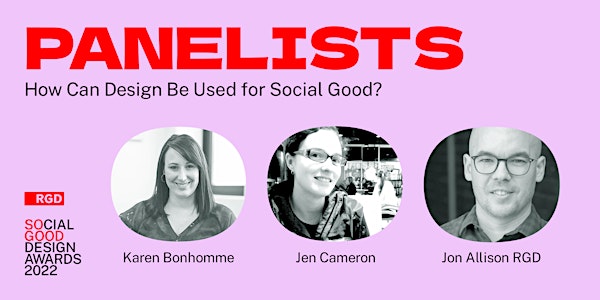 How Can Design Be Used for Social Good? -Kingston (Sept 28, 6 PM ET)
Discussion & Exhibition
When and where
Location
Kingston Frontenac Public Library 130 Johnson Street Kingston, ON K7L 1X8 Canada
About this event
Date: Sept 28
Time: 6pm - 8pm
Do you remember the last time a billboard stopped you in your tracks? Or maybe a time when a magazine cover or a campaign on Instagram moved you so deeply that you signed up to volunteer for something you believe in Good graphic design is not just pretty: it has the power to change our perspectives, and can inspire us to make positive changes in our world.
As part of the SoGood Design Awards Exhibition, we're hosting a conversation with four designers on how design can help advance social good. You'll learn about what 'social good' truly means, see designs that champion social causes, and hear how BIPOC designers are shifting the world of design.
Moderated by
Nicole Duncan RGD
Nicole is an Art Director and Graphic Designer with 10 years experience in a range of areas in the industry. She collaborates with clients and agencies on original, persuasive and intelligent solutions that connect to consumers.
Panelists:
Jon Allison RGD, founder and Creative Director of Backcountry Branding
Jon is an award-winning designer, founder and Creative Director of Backcountry Branding, where he helps brands harness their potential and communicate their value through strategic positioning and memorable identity systems. Born in rural Ontario, Jon moved to America to study graphic design, then returned to Canada, where he cut his teeth at a brand and marketing agency. In 2015, he received the RGD designation for integrity, professionalism, quality and competence from the Association of Registered Graphic Designers. In 2016, Jon founded Backcountry to help brands stand out by developing a process to help them differentiate from competitors and communicate their value. He has helped clients such as the Must Do Canada, TeamUp, County of Frontenac, Frontenac Outfitters, Strata Hotel, Galloping Goose Coffee, Spearhead Brewing Co and Hard Way Cider. Over 14 years Jon has 22 professional awards and 13 appearances in industry publications.
Karen Bonhomme, Creative Director, 1dea Design + Media Inc., Kingston ON
With thousands of projects under her belt, there are few creative challenges multidisciplinary designer Karen Bonhomme hasn't addressed. A graduate of Conestoga College, Karen began her career by harnessing her skills at a number of creative agencies before successfully launching her own full-service web and creative agency 17 years ago. Working now in the role of Creative Director at 1dea, which specializes in strategic brand developments, conversion-driven websites and custom graphic design, Karen has shifted the business to heavily focus on web and digital design/development services. She's proud to have led the 1dea team in partnership with her husband, Trevor. As an established agency, Karen says that 1dea has the benefit of aligning the fit of the projects with its own core values. It strives to take on projects that have a good social impact, with solutions that positively affect the outcome for its users, while also empowering design practices that engage and convert. A mother of two, Karen is a dog lover mildly addicted to interior design, and has a penchant for all things sweet. She thrives on the unexpected and loves that each day offers new challenges while at the same time providing her the opportunity to mentor team members as they grow and evolve.
Jen Cameron, Partner/Strategic Designer at BmDodo Strategic Design
Jen is an award winning designer based in Kingston, Ontario. She has worked on projects internationally for the United Nations and European Commission, as well as local clients such as the United Way KFL&A, Cataraqui Conservation, Kingston Health Sciences Centre, Kingston Symphony, Community Foundation, Kinarm, Lumeo, Enright Cattle Company, Tri-board, City of Kingston, K&P Trail, Kingston Utilities and Kingston Hydro. Jen's work has won multiple awards including "Design at Work" awards for the Success by 6 "Make the Moments Matter campaign" as well as the Innovation Park corporate identity and the "So Good Awards" for the Path to Homelessness Campaign. In her free time, Jen plays trombone in a swing band and enjoys spending time with her daughter, dog and husband.