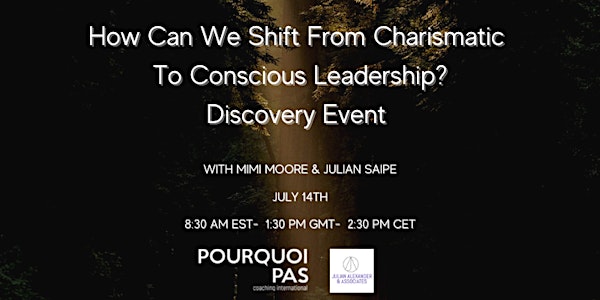 How Can We Shift From Charismatic To Conscious Leadership? Discovery Event
Join Mimi Moore and Julian Saipe for an interactive session about their approach to developing emerging leaders.
About this event
This discovery session is designed specifically for HR and Talent Development Leaders. Here we will uncover the meaning of conscious leadership, how the embodiment of coaching skills produces more impactful leaders, and why change begins from within.
The topics for discussion will include:
• Developing 'presence', and letting go of 'personality'.
• Teaching ICF core competencies as a leadership style.
• The emergence of Self and systemic change.
Session With:
Mimi Moore –CEO, Executive Coach, Facilitator, Writer & Speaker, Forbes Contributor, Attorney
Julian Saipe – Former CEO, Leadership Coach, Forbes Coaches Council, Keynote Speaker, Adjunct Professor, Board Member, Author
Date and times:
July 14th
8:30 AM EST- 1:30 PM GMT- 2:30 PM CET