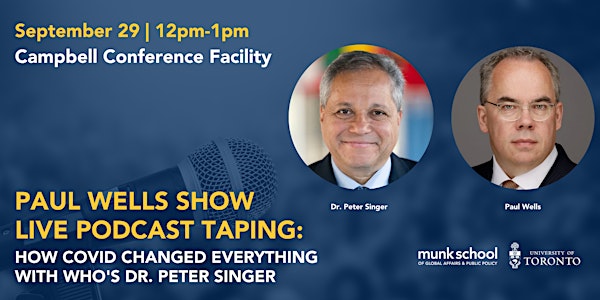 How COVID Changed Everything with WHO's Dr. Peter Singer
Paul Wells Show Live Podcast Taping
When and where
Location
Campbell Conference Facility, Munk School 1 Devonshire Place Toronto, ON M5S 3K7 Canada
About this event
Dr. Peter Singer is a Special Advisor to the Director General of the World Health Organization, an Officer of the Order of Canada and a bioethicist. In this live podcast taping for the Paul Wells Show, host Paul Wells will ask Dr. Singer about the state of global health in the COVID-19 pandemic.
Is the end of the pandemic in sight? And where does it leave us? Vaccines and other public health measures have become politically polarizing, international cooperation to fight the pandemic took a heavy blow, and the WHO itself has become a target of conspiracy theories. In this climate, Dr. Singer will share his ideas for getting the world back on track to meet its health goals.
The Paul Wells Show is produced by ANTICA, in partnership with the National Arts Centre and the University of Toronto's Munk School of Global Affairs and Public Policy. It is published by the Toronto Star and iPolitics. The show's founding sponsor is TELUS and the title sponsor is Compass Rose
Light refreshments to follow the conversation from 1-2pm.
Dr. Singer's bio:
Dr Peter Singer has dedicated his career to building innovative institutions with high social impact.
Since 2017, he has been Special Advisor to the Director General, supporting Dr Tedros to transform WHO into an Organization focused on measurable impact in countries. Dr Singer co-chaired the transition team; was the architect of WHO's strategy and its "triple billion" target; and supports strategy implementation of WHO's programme budget, results framework, delivery stock-takes, investment case, innovation framework, innovative finance initiatives, brand strategy, and multilateral partnerships through the SDG3 Global Action Plan. During the pandemic, he has been a passionate advocate for vaccine equity.
From 2008-2018 Singer was Chief Executive Officer of Grand Challenges Canada, raising CAN $450M to support 1000 innovations in more than 90 countries, which have the potential to save ~1 million lives and improve ~20 million lives by 2030. From 1996-2006 he was Sun Life Financial Chair and Director of the University of Toronto Joint Centre for Bioethics.
In 2011, Dr Singer was appointed an Officer of the Order of Canada, recognized for his contributions to health research and bioethics and for his dedication to improving the health of people in developing countries. He received the Michael Smith Prize as Canada's Health Researcher of the Year in Population Health and Health Services (2007), and is a Fellow of the Royal Society of Canada, the Canadian Academy of Health Sciences (where he was Foreign Secretary), U.S. National Academy of Medicine, and The Academy of Sciences for the Developing World (TWAS).
As Professor of Medicine at University of Toronto, Dr. Singer published over 300 articles, received over $50 million in research grants, and mentored hundreds of students. He studied internal medicine at University of Toronto, medical ethics at University of Chicago, public health at Yale University, and management at Harvard Business School. He served as Board Chair of Branksome Hall, an internationally minded school for girls.
Paul Wells bio:
Paul Wells is one of Canada's leading political journalists, having spent more than 25 years on the Hill, covering eight federal elections, four prime ministers, and a big piece of Canada's history. Fresh, funny, and authoritative, Wells speaks in both official languages on all matters of the day, from the nation's position in the global economy, to the inside scoop on what's really happening inside the Parliament buildings and beyond.
For 19 years, Wells was the lead political columnist at Maclean's magazine. Prior to this, he was the national affairs columnist at The Toronto Star and has also written for the Globe and Mail and The National Post. Wells has won three gold National Magazine Awards and a National Newspaper Award.
Today, Wells is a regular political commentator on both the French- and English-language CBC networks. He has also launched a subscription newsletter, which is already one of the most widely read political newsletters in Canada. In fall 2022, Wells will launch his podcast, The Paul Wells Show, in partnership with the Munk School of Global Affairs and Public Policy at the University of Toronto. He is also their inaugural journalist fellow-in-residence for the 2022-23 academic year.
A bestselling author, The New Yorker magazine called Wells "Canada's foremost Harperologist" with the release of his book on Stephen Harper, The Longer I'm Prime Minister. It is the only book to have ever won three major non-fiction book awards: The Shaughnessy Cohen Prize, the John W. Dafoe Book Prize, and the Ottawa Book Award.