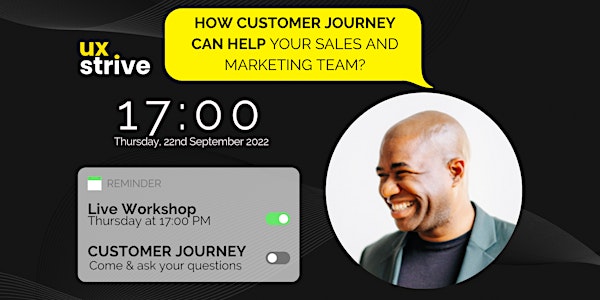 How customer journey can help your sales and marketing team?
Involve your employees in each stage of the customer journey and boost your online sales with equitable human-centered strategies to engage.
About this event
LIVE WORKSHOP - COME AND ASK YOUR QUESTIONS
↓↓ Feel free to join and explore the topics we will be discussing ↓↓
Customer Journey in UX design, the path to advocacy
What is the customer journey?
The customer journey is a map that shows the steps customers take when interacting with your business. Learn how it is essential for all business sizes, and how it can help you create engaging strategies that will keep customers coming back or even have a long lasting relationship with your product or service.
How to make a functional customer journey map
To create a functional customer journey map you will need to gather data about how your customers interact with your business. This can be done through surveys, interviews, and focus groups. Learn the best practices when building your map to understand your customer needs and feelings towards your product.
Essential platforms and tools that will help your team along each stage of the customer journey to create engaging strategies
Once you have this data, you can begin to map out the customer journey using different tools such as affinity diagrams, mind maps, and storyboards. Learn about APP, platforms and other essential tools that will help your team develop succesful strategies. Here are some essential tools that will be explored during this workshop:
Research: Competitive analysis, market research, trend reports
Design: Wireframing and prototyping tools, user experience design (UX) software
Development: Code editors, content management systems (CMS), hosting providers