Marketing Your Biz & Making a KICK ASS Passive Income at the Same Time ;)
About this event
Free Online Event to learn how to market your biz & make a killer passive income at the same time.
I will be showing you personally how I do all this with my 2 businesses. So this is the real deal. Not some boring webinar.
GROW YOUR NETWORK AND YOUR SALES
SHUFFLE MAKES IT EASY TO ADD CONTACTS, UPDATE RECORDS AND SCHEDULE FOLLOW-UPS SO YOUR LEADS AND CONTACTS NEVER FALL THROUGH THE CRACKS
- Stay in touch with the people that matter most
- Keep notes and set follow-up reminders so you're always prepared for the next conversation
- Touchless and paperless sharing makes face to face encounters easy
- Socialize with other entrepreneurs who share resources and best practices
Anyways, show up on Dec 21st at 12pm MST and I'll show ya all how I get a ton of business with these digital biz cards for my two company's and how I make coin doing it.
Here are my 2 Digital Business Cards for my company's so you can get a sneek peek on how they look.
Jube2 "The Click to Pay LESS in Business & Life Store" - CLICK HERE
EntrepreneurFit "Health / Wellness & Fitness for the Mind, Body, Business & Soul" - CLICK HERE
See you all soon!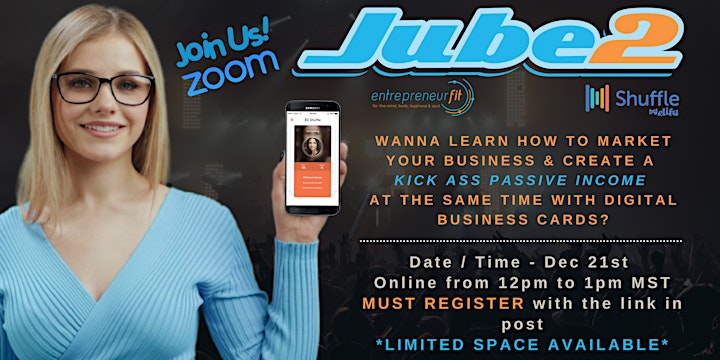 Organizer of How Digital Biz Cards are Gonna Change Your Business & Life
Jube2 has weekly events that feature one of our TOP VETTED partners that offer their services to all Entrepreneurs, Startups & Established Business Owners across Canada all at an exclusive discounted rate to all Jube2 members & Jube2 partners.
You will also get a very quick demo on how Jube2 works and see how so many businesses are saving thousands of dollars in their Business & Life all in one place.
To see how Jube2 works, please visit www.jube2.com to see our explainer vids or CLICK HERE to go straight to the explainer video