Description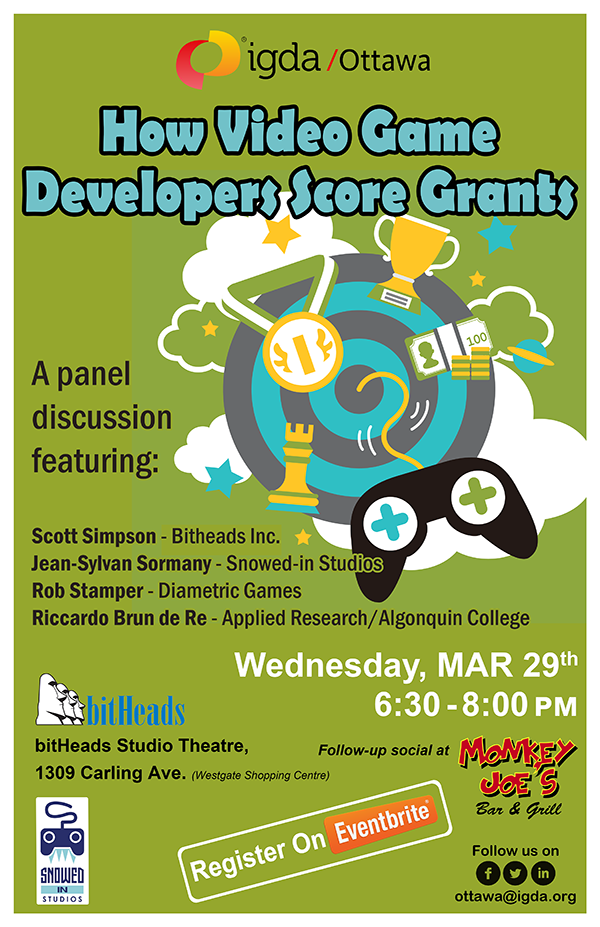 For our meetup this month, IGDA Ottawa is hosting a panel exploring the various government funds available to video game developers in the Ottawa/Quebec regions.
Come learn from a diverse mix of industry leaders who have had first-hand experience dealing with and raising government funds for their respective organizations.
PANELISTS
Scott Simpson - CEO Bitheads Inc.

Jean-Sylvain Sormany - President, Snowed-in Studios

Rob Stamper - CEO, Diametric Games

Riccardo Brun de Re - Project Manager, Full Spectra Centre - Office of Applied Research and Innovation
PANEL MODERATOR
Matthew Kirubakaran - Co-Chair IGDA Ottawa, Technical Product Manager, Espial
SPEAKER BIOS
Jean-Sylvain Sormany is an entrepreneur in the gaming industry. He is currently president of Snowed In Studios. After graduating from the Polytechnic School of Montreal with a degree in Computer Engineering he worked at Behaviour as an AI Programmer on console titles. In 2004, he was promoted to Team Lead and by the end of that year, joined Ubisoft to work on various titles including King Kong and the Far Cry series. In 2007, he moved to Ottawa where he worked as Director of Technology at Fuel Youth before founding Snowed In Studios in 2010, which contributed to dozens of games including Deus Ex Human Revolution, Warhammer 40K: Eternal Crusade, Wild Kratts games (PBS) and multiple undisclosed AAA games. Jean-Sylvain has also been very active in the community with the IGDA Ottawa Chapter and by teaching programming and project management at Carleton University since 2008.
Riccardo Brun del Re, Ph.D. has over 20 years of experience in research management and administration. At Algonquin College's office of Applied Research, he was the principal author on over $3.5M in successful research grant applications (NSERC, FedDev, OCE, SSHRC, others) as well as a significant secondary contributor on an additional $5.3M in grant funding. In the private sector, Dr. Brun del Re has been a company founder, and a consultant in medical devices, regulatory affairs, and in environmental chemistry. He is a writer of middle-grade nature adventure stories (pseudonym 'P.A. Mundi') and has interests in eastern mysticism.
Scott Simpson co-founded bitHeads 19 years ago and has guided the company to become one of the largest app and enterprise development companies in North America. Under his leadership, the company has developed a unique mix of capabilities spanning mobile, games, and enterprise software. Scott has served on several public and private boards, and actively donates time to startups and Ottawa's tech community.
Rob Stamper is the CEO & Creative Director at Diametric Games, a small team whose goal is to bring something new to the industry with each game. Coming from a diverse background such as Armed Forces officer, bank manager, and chef, Rob brings a unique and broad perspective to his team and the games they make.
Matthew Kirubakaran is the Co-Chair of IGDA Ottawa, a Co-Organizer at Product Hunt Ottawa and a Technical Product Manager at Espial Inc.
Matt has extensive experience in the games industry and has shipped over fifty titles with Microsoft, Disney, Paramount Pictures, Activision, Ubisoft, Dreamworks, Nintendo, Nickolodeon, McDonald's Europe and similar players.
AGENDA
6:30 PM - 7:00 PM - Networking and Refreshments
7:00 PM - 8:30 PM - Panel Discussion with Q&A
8:30 PM onwards - More Networking at Monkey Joe's
We look forward to seeing you all there.
- The IGDA Ottawa Crew