Join us for an intimate Q&A with Paul Stamets and Dr. Pamela Kryskow. We'll explore the medicinal use of mushrooms and more.
About this event
Event Summary
Join Psychedelic Association of Canada Executive Director Cory Firth as he sits down with special guests Paul Stamets and Dr. Pamela Kryskow for an intimate Q&A centred on the medicinal use of mushrooms in North America and how fungi can help the overall health of people and the planet.
In honour of the launch of the new Psychedelic Association of Canada Brand and to celebrate the power of the growing mycelium network of psychedelic explorers in Canada, we'll be asking our members to submit questions both in advance and during the event for our guests.
Join us Thursday, December 9th, 2021 at 4 PM PST / 7 PM EST
As a member of the Canadian Psychedelic Association, you get access to our webinars and networking events. Find the link to claim your free ticket in our members' area. Not a member yet? Join us! Learn more about our membership and the amazing giveaway we are running here: www.joincpa.ca
The recording of this event will be made available for everyone who purchased a ticket and our members 1 week after the event. Thank you for your support.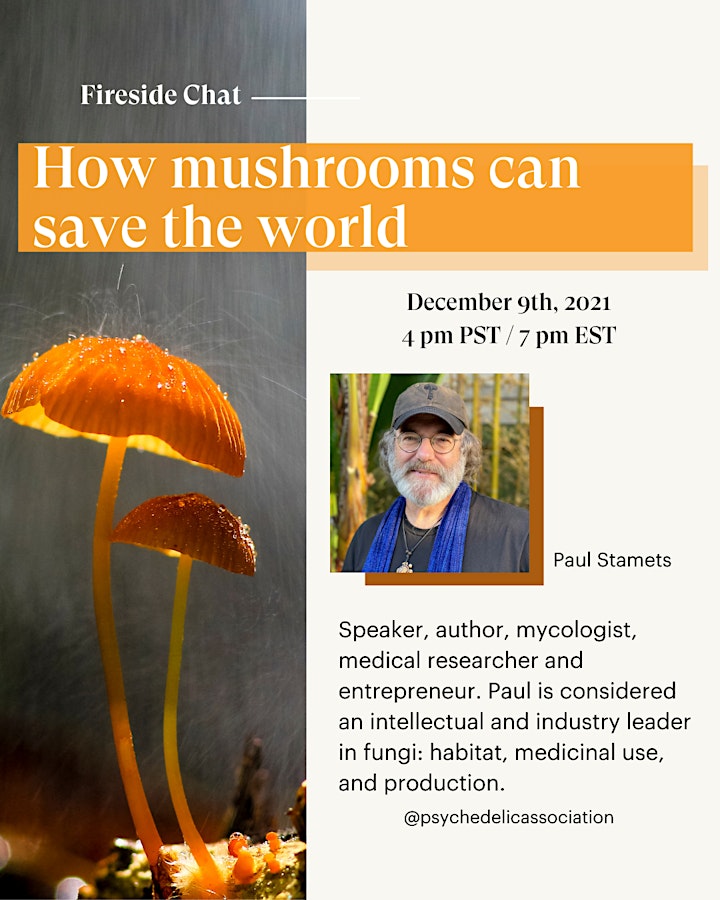 Speakers:
Paul Stamets is a speaker, author, mycologist, medical researcher and entrepreneur, is considered an intellectual and industry leader in fungi: habitat, medicinal use, and production. He lectures extensively to deepen the understanding and respect for the organisms that literally exist under every footstep taken on this path of life. His presentations cover a range of mushroom species and research showing how mushrooms can help the health of people and the planet. His central premise is that habitats have immune systems, just like people, and mushrooms are cellular bridges between the two. Our close evolutionary relationship to fungi can be the basis for novel pairings in the microbiome that lead to greater sustainability and immune enhancement.
Paul's research is considered breakthrough by thought leaders for creating a paradigm shift for helping ecosystems worldwide. Paul is the author of six books (including Mycelium Running: How Mushrooms Can Help Save the World, Growing Gourmet & Medicinal Mushrooms, and Psilocybin Mushrooms of the World), he has discovered and named numerous new species of psilocybin mushrooms.
Dr. Pamela Kryskow is a medical doctor and psychedelic researcher. Her training includes Family Medicine, Rural Emergency Medicine, Chronic pain, Functional Medicine and Ketamine Assisted Psychotherapy. She is currently working with colleagues on research related to Ketamine Assisted Psychotherapy, Psychedelic Microdosing, MDMA for Chronic Pain, Psilocybin, and Psychedelic therapy.
For transparency, Dr. Kryskow is an advisor as follows :
Clinical Advisory Council for Numinus BioscienceMedical Advisor for Fungi Perfecti
Dr. Kryskow has signed the North Star Ethics Pledge
Host
Cory Firth is the Executive Director of the Canadian Psychedelic Association, a former media agency founder and human impact entrepreneur with 10+ years of experience in communications, brand strategy, business design, functional health and human optimization. As a plant medicine advocate for over 15 years, Cory is passionate about supporting the efforts to advance the decriminalization and legalization movement in Canada.
Cory has committed his career to a vision of the future where mental health and disease are viewed as holistic, collective experiences and the shame and stigmatization of our communities are replaced with compassion and connection. A future where Canada inspires the world with its ability to accept, support and provide opportunities for all of its people to reunite with our innate abilities to heal, overcome and actualize our full potential.
Cory has signed the North Star Ethics Pledge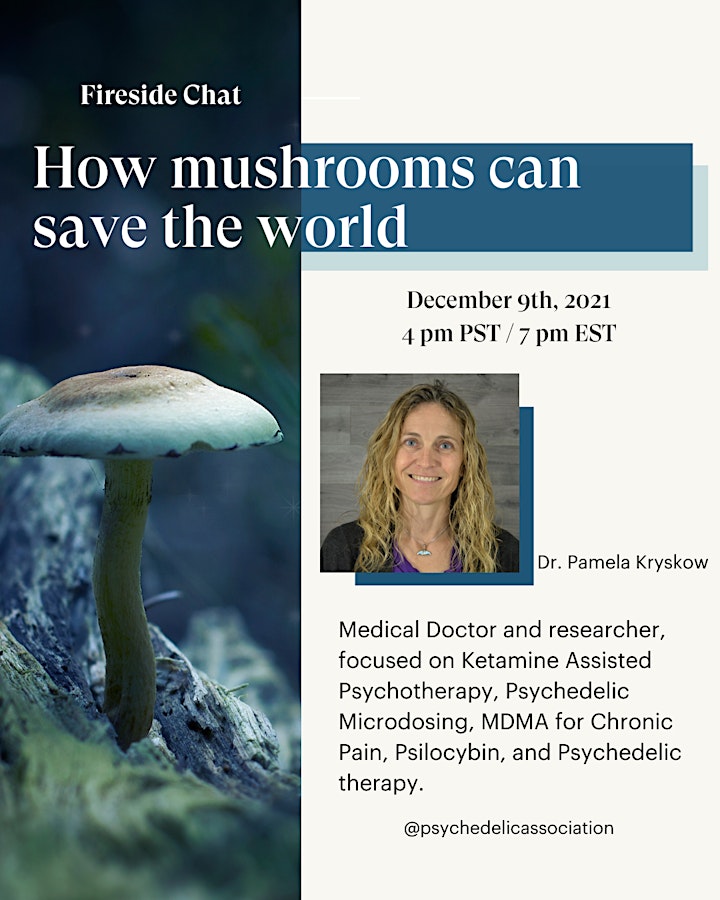 Date and time
Location
Refund policy
Organizer of How mushrooms can save the world: a q&a with Paul Stamets