Location
Conference Auditorium 2, University of Leeds
Clarendon Way
Leeds
United Kingdom
Description
Not-For-Profit Enterprise & the New Global 'Economics of Enough'
Join Donnie Maclurcan from the Post Growth Institute for a glimpse into the Not-For-Profit global economy as he discusses conclusions from his forthcoming book, How on Earth: Flourishing in a Not-For-Profit World by 2050.
Not-for-profit enterprise will be at the heart of the global economy by 2050. This is the compelling vision outlined in How on Earth, based on a growing body of evidence that the world is shifting toward an 'economics of enough'.
From construction and manufacturing, through to software development, food catering and retail, the not-for-profit ethic is permeating global commerce, with not-for-profit entities increasingly generating their own income, rather than relying on philanthropy. Cooperatives, community interest companies, government-owned corporations and social enterprises all show how reinvesting, rather than privatizing their profits, is the healthiest and most sustainable way to manage a business. In fact, many not-for-profit (NFP) enterprises are now outperforming their for-profit counterparts.
This inspiring set of evidence suggests that the foundations for a post-growth economy are already being laid. Join us to find out how and where this new global economy is emerging!
BIOGRAPHY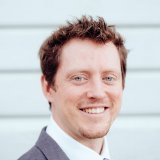 Donnie Maclurcan is co- founder and executive director of the Post Growth Institute; Affiliate Professor of Social Science, Southern Oregon University; Distinguished Fellow, Schumacher Institute, and an Associate at the Institute for Sustainable Futures. Donnie also led the development of the (En)Rich List, the Post Growth Challenge, and Free Money Day. At age 20, Donnie attained the Guinness World Record for the fastest journey on foot across Australia, running from Perth to Sydney in 67 days, raising $30,000 for the sight-restoring work of The Fred Hollows Foundation. You can read more about Donnie and his work here http://postgrowth.org/author/donnie/
BOOK
How on Earth: Flourishing in a Not-For-Profit World by 2050 is available to order in advance of publication here. You can also watch a short film about the book.

CASSE Yorkshire welcomes you to this free event and the first of the new academic year 2014/2015. Our Enough Waiting discussions normally take place on the 3rd Wednesday of every month in the School of Earth and Environment at the University of Leeds.