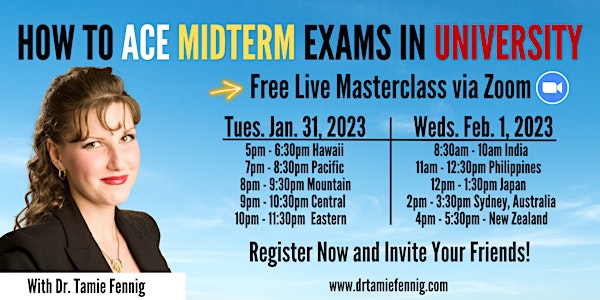 How to Ace Midterm Exams in University
Wondering what it takes to earn high grades in college and/or university?
When and where
Date and time
Tuesday, January 31 · 7 - 8:30pm PST
About this event
I teach undergraduate students in college/university how to study, establish high academic performance and earn high grades, so that they can graduate and secure the dream job of their choosing.
In my assessment, there's no need for students to struggle with low grades, and then contend with the depression, anxiety, missed opportunities and regret that may accompany such an unfortunate situation.
Whether a student is looking to extricate themselves from academic probation, or simply break-through from "B-level" letter grades (e.g., B-, B, B+) to "A-level" letter grades (e.g., A-, A, A+), they can achieve their goals.
Having been a university student myself for many years, and most recently having taught hundreds of Criminology students during the "COVID-era," I thoroughly understand the many challenges that students face.
Join us for a live/interactive masterclass (via Zoom), on Tues. Jan. 31, 2023 at 7pm Pacific Standard Time, to receive guidance and practical suggestions that you can use to improve your academic performance going forward!
We look forward to seeing you there!
Best wishes,
Dr. Tamie Fennig
Keywords: class, education, lecture, learning, teaching, coaching, campus life, health, wellness, well-being, self-awareness, self-responsibility, self-actualization, focus, mindset, meditation, mental health, midterm exams, final exams, test, exam preparation, pass, good grades, top grades, study tips, note-taking, reading, writing, research, presentations, communication skills, group work, stress management, self-care, sleep hygiene, balance, challenges, athletes, English as an additional language, foreign language, TOEFL, parents, family, friends, success, academic achievement, academic excellence, university success, university excellence.