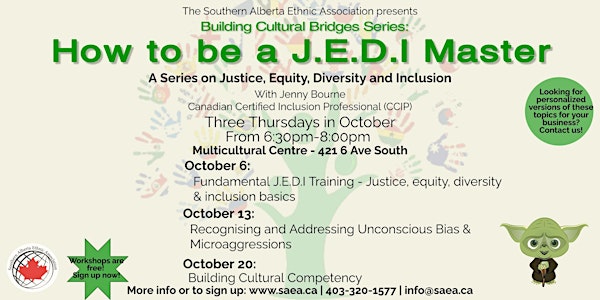 How to be a J.E.D.I Master - Series on Justice,Equity,Diversity&Inclusion
Location
MultiCultural Centre - Home of SAEA
421 6 Avenue South
Lethbridge, AB T1J 0Y7
Canada
Check out our Building Cultural Bridges Series on Justice, Equity, Diversity & Inclusion! The series will touch on different "JEDI" themes
About this event
The Southern Alberta Ethnic Association presents Building Cultural Bridges Series: How to be a J.E.D.I Master, A Series on Justice, Equity, Diversity and Inclusion. This series is presented by Jenny Bourne, Canadian Certified Inclusion Professional (CCIP). Sign up for 1, 2 or 3 of our free sessions happening Thursday nights October 6th, 13th, & 20th at the Multicultural Centre (421 6 Ave South) from 6:30pm-8:00pm.
Check out the description of the sessions:
October 6: Fundamental J.E.D.I Training - Justice, equity, diversity and inclusion basics
During this interactive workshop we will investigate some common myths and stereo-types surrounding diversity and inclusion, and provide practical steps to take when creating more inclusive environments. This session is built to make certain that everyone leaves with a shared understanding of the topic of justice, equity, diversity, and inclusion and explores our understanding of these concepts and the benefits of creating equitable, diverse, and inclusive spaces.
October 13: Recognising and Addressing Unconscious Bias and Microaggressions
One of the most ubiquitous barriers to inclusion is our unconscious biases. This session will explore the sources and effects of unconscious bias as well as its impacts. Strategies used to increase awareness and mitigate the impact of unconscious bias will be explored as we look at history and demographics for Lethbridge and area.
October 20: Building Cultural Competency
This session will encourage self-exploration with the goal of understanding the concept of cultural competence. This workshop will help participants understand the fundamental concepts of culture, and different cultural norms, encouraging them to work toward being more culturally competent in their interactions.
Contact us at 403-320-1577 or info@saea.ca