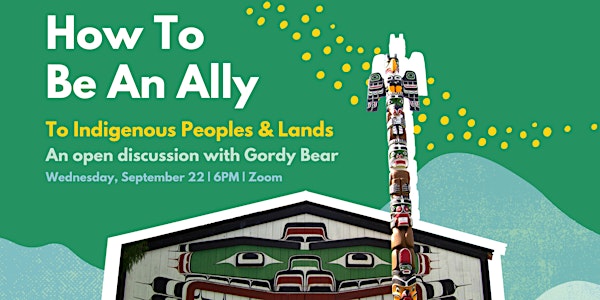 How To Be An Ally To Indigenous Peoples and Lands:
Exploring how to be an ally to indigenous peoples and lands and the key differences of cultural appreciation vs. cultural appropriation.
About this event
Wednesday, September 22nd 2021 | 6PM-8PM | Zoom
The Victoria Downtown Residents Association invites the Downtown-Harris Green Neighbourhood to an open discussion with Gordy Bear; exploring how to be an ally to indigenous peoples and lands and the key differences between cultural appropriation and cultural appreciation in your everyday life. This is a safe space to open yourself to learning and continue our journey together for strong community relationships.
Registration is limited to 30 individual, please pre-register using Eventbrite by September 20th, 2021.
Gordy Bear – Gordy is Cree/Metis From Sandy Bay Saskatchewan, he was born in Victoria, and has spent a majority of his life living on Lukwungen Territory. He married Brianna Dick from the Songhees nation, and has been a visitor to these lands for 20+ years. Gordy is a Drum Maker, Story Teller, Cultural Coordinator, Knowledge Keeper, Husband, and soon to be Father. He has spent his life walking on the red road, and loves to share his knowledge and teachings with any who wish to learn.
We acknowledge, respect and thank the lək̓ʷəŋən peoples on whose traditional territory the Victoria Downtown Residents Association stands, and the Songhees, Esquimalt and W̱SÁNEĆ peoples whose homelands host us to work, learn, love, play and live.