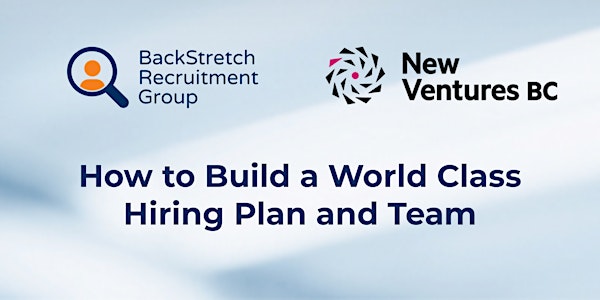 How to Build a World Class Hiring Plan and Team
A Workshop designed to give early-stage companies best in class tools and knowledge on all things hiring, recruitment, and growing teams.
About this event
As a growing company, learning the best practices around HIRING that work TODAY is your responsibility. It is a competitive advantage. Building the right team can impact the success and trajectory of your business. Failure to not accept this challenge as a business can do the opposite.
The reality is there is a lot of talk and opinions. This is your opportunity to hear directly from experts who have hired more than 10,000 people, conducted over 20,000 interviews, and recently led the recruitment of 200+ hires for one of Canada's fastest growing technology companies.
Workshop Presenters:
Matt Heiydt, Founder | Partner, BackStretch
Alison Fleischauer, Partner, BackStretch
You will learn:
What is going on in today's hiring marketplace and how to leverage it
What is employment branding and how to own it? 15 minutes can change your candidate quality
Top 3 lessons learned from Certn (194 hires in 19 months), and how to implement them
How to build your company's hiring plan
How to create the best offer to secure your dream team
Open Q&A with talent acquisition experts
Who should attend:
Anyone who wants to learn about world class hiring
Early-stage entrepreneurs, founders and leadership
CEOs, VPs, and Directors
HR managers
Talent acquisition managers
Anyone who is responsible for recruitment and onboarding new employees for your organization
Mark the Date!
Date: Wednesday, September 28th, 2022
Time: Noon – 1pm
Format: Virtual. Held on Zoom
Cost: Free to attend
BackStretch Recruitment Group is a Canadian recruitment firm that partners with growing businesses to solve their hiring needs. As a Bronze sponsor for the 2022 NVBC Competition, the company is providing training and workshops designed to help BC's fledgling startups learn how to hire the right talent, at the right time.