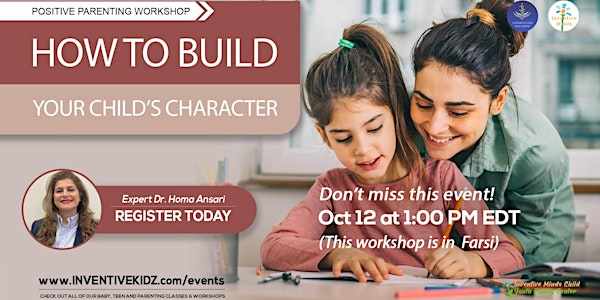 How To Build Your Child's Character
Good character traits, such as respect, cooperation, and honesty, are arguably the most important things that children need to learn.
About this event
These traits and others help children make good choices, develop self-esteem, and become responsible citizens and caring individuals.
But it is not something that happens overnight. In this workshop, we will be discussing strategies on how to build your child's character while learning about the stages of mental and emotional development in children.
Topic: How To Build Your Child's Character
When: Wednesday, October 12 at 1:00 PM - 1:45 PM EDT
Where: Online Event
About the Author:
Dr. Homa Ansari is a certified family and child counselor. She is also a member of the Iranian Psychology System as well as Canadian Counseling and Psychotherapy Association CCPA.
Check out all of our Baby and Parenting Classes & Workshops here: https://inventivekidz.com/events
Join The Parent Toolbox Facebook Community Group Today.
If you have any questions, please contact us at inventivekidz@gmail.com