How to Confidently Start & Run a Freelance Writing Business
Description
How to Confidently Start and Run a Freelance Writing Business is an in-person, weekend-long workshop offered by The Freelance Writing School.
What's the Workshop all About?
You'll make your way to Camp Bretondean on Friday evening and join us for registration at 5:30 p.m. Once everyone is settled, we'll sit down to a group dinner and start planning your dream freelance writing business right away!
Over the next two days, you'll identify what kind of freelance writing business you want to build, and you'll work through the roadblocks and barriers that could get in your way of success. We'll split our time between learning the essential business building strategies necessary to succeed and focused writing sessions. Did we mention there's a campfire session and a planned hike to round out the weekend? In our "S'mores and Dreaming Big" session, we'll talk candidly about what you want and how you can create the business of your dreams.
All the while, you'll be building valuable connections with a community of freelance writers right here in Cape Breton and beyond. Being a freelancer can be lonely, so we want to make sure you never feel like you are by yourself, regardless of whether you work on the couch in your underwear or you rent a space to run your business out of during the week.
On Sunday, you'll leave with action items to start working on Monday morning if that is your goal. This intensive and action-based, in-person workshop will provide you with everything you need to start and run a freelance writing business so register today - there are only 19 spots available!
This isn't your typical stuffy corporate workshop - we are going to have loads of fun and build real businesses while we are at it! Jeans and t-shirts are welcome at this workshop. Leave your power suits at home.
Come with an idea on Friday and leave with a business on Sunday - how cool is that?!
The Registration Fee Includes:

- cost of the workshop including all sessions, workbook, and support materials plus some swag ;)
- all accommodations at Camp Bretondean for Friday and Saturday night
- cost of food including dinner Friday night, breakfast, lunch, and dinner on Saturday, and breakfast and lunch on Sunday
- access to the Facebook community for The Freelance Writing School Workshops where you can stay connected to fellow freelancers and meet new ones to build your support network
What You'll Need to Bring to the Weekend Workshop:

- Bedding (sleeping bag/blankets/pillows)
- Toiletries including towel and facecloth (bring flip flops)
- Warm clothes for the campfire and evening events (we'll be watching the weather as the event date gets closer)
- Laptop or tablet with a keyboard attachment for writing sessions (bring all chargers)
- notebook and pens
A detailed email will be sent to you in the days leading up to the workshop weekend which will include more information about what you need to bring to make the most of the weekend event.
AGENDA FOR THE WEEKEND OF JUNE 8 - 10, 2018
*Agenda is subject to change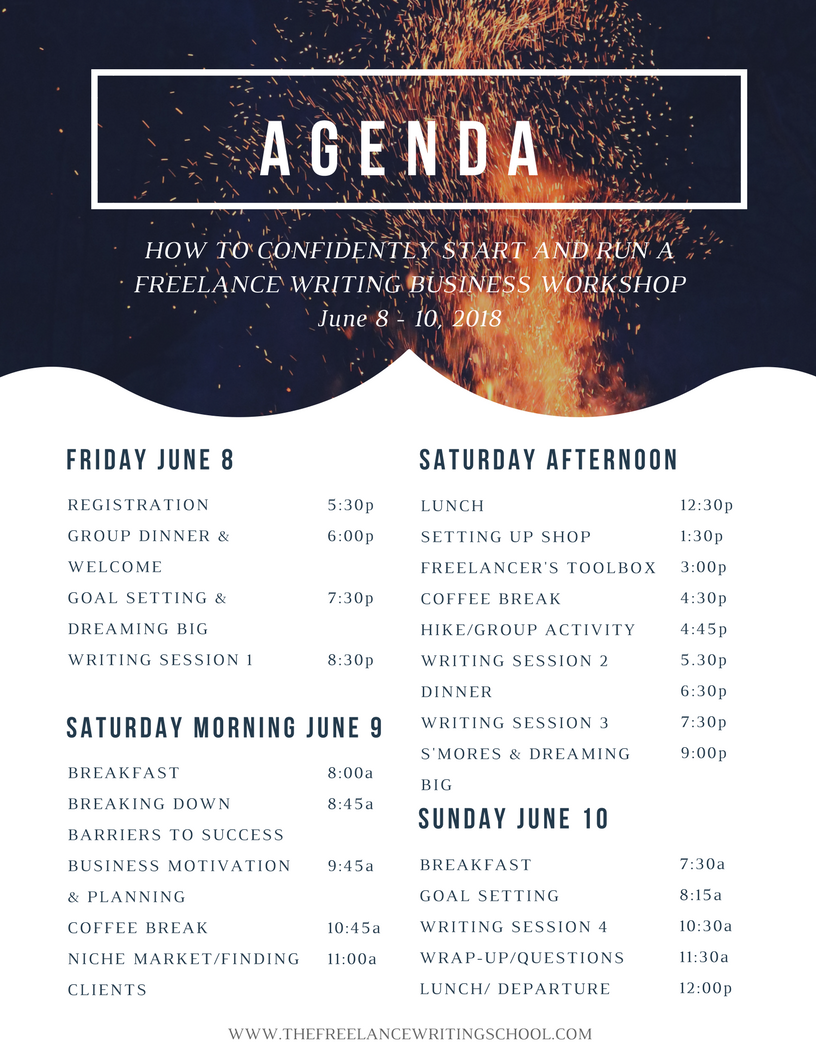 Camp Bretondean is situated on the beautiful Mira River, just a short drive from Sydney, Nova Scotia. The camp has three lodging houses completed with bunk beds, full bathroom facilities, showers, ramps for accessibility, large sitting areas and more. The workshop will take place in the main building of the camp in the dining hall. There is plenty of parking and the Mira River is just a short walk down a beautiful trail where you can take in some of the best views Cape Breton has to offer.
If you have any questions, reach out to heatherdeveaux@gmail.com
If you've been thinking of starting your own freelance writing business, now is the time to act! We are looking forward to seeing each and every one of you!