How to Confidently Start & Run a Freelance Writing Business
Description
How to Confidently Start and Run a Freelance Writing Business is an in-person, weekend workshop offered by The Freelance Writing School.
What Will You Learn?
During this one-of-a-kind learning retreat, you'll learn how to start and run a freelance writing business. Working with Heather Deveaux, freelance writer and owner of The Freelance Writing School, you'll get lots of insider information about how to find and keep clients, how to price your services, how to market and sell your writing, how to develop a schedule that reflects the life you want to live, how to earn money while you travel or work from home, how to use tools of the trade to improve your writing and more.

This workshop gives you everything you need, including information about business registration, invoicing and payments, templates to help you get started, checklists to help you get organized, and worksheets to help you set and achieve goals. Plus, you'll get to do some writing and plan your strategy for earning a living - or extra income - as a freelance writer.
What Do Freelance Writers Do?
As a freelance writer, your job is to create content for clients. But the choice is yours when it comes to what you want to write, how much you want to write, where you want to work, and how much you want to charge. Don't worry - this workshop will help you answer all of those questions! If you want to write blogs for clients, you can do that; if you want to write research articles for big data companies, you can do that. If you want to write book reviews and get paid for it, you can do that. If you want to create copy for a landing page, you can get paid to do that. The possibilities are endless!
The Registration Fee Includes:

- cost of the workshop including all sessions, workbook, and support materials plus some swag ;)
- all accommodations at Camp Bretondean for Friday night
- cost of food including breakfast, lunch, and dinner on Saturday
- access to the Facebook community for The Freelance Writing School Workshops where you can stay connected to fellow freelancers and meet new ones to build your support network and more
What You'll Need to Bring to the Weekend Workshop:

- Bedding (sleeping bag/blankets/pillows)
- Toiletries including towel and facecloth (bring flip flops)
- Warm clothes for the campfire and evening events (we'll be watching the weather as the event date gets closer)
- Laptop or tablet with a keyboard attachment for writing sessions (bring all chargers)
- notebook and pens
A detailed email will be sent to you in the days leading up to the workshop weekend which will include more information about what you need to bring to make the most of the weekend event.
AGENDA FOR THE WEEKEND OF SEPTEMBER 14 - 15th, 2018
*Agenda is subject to change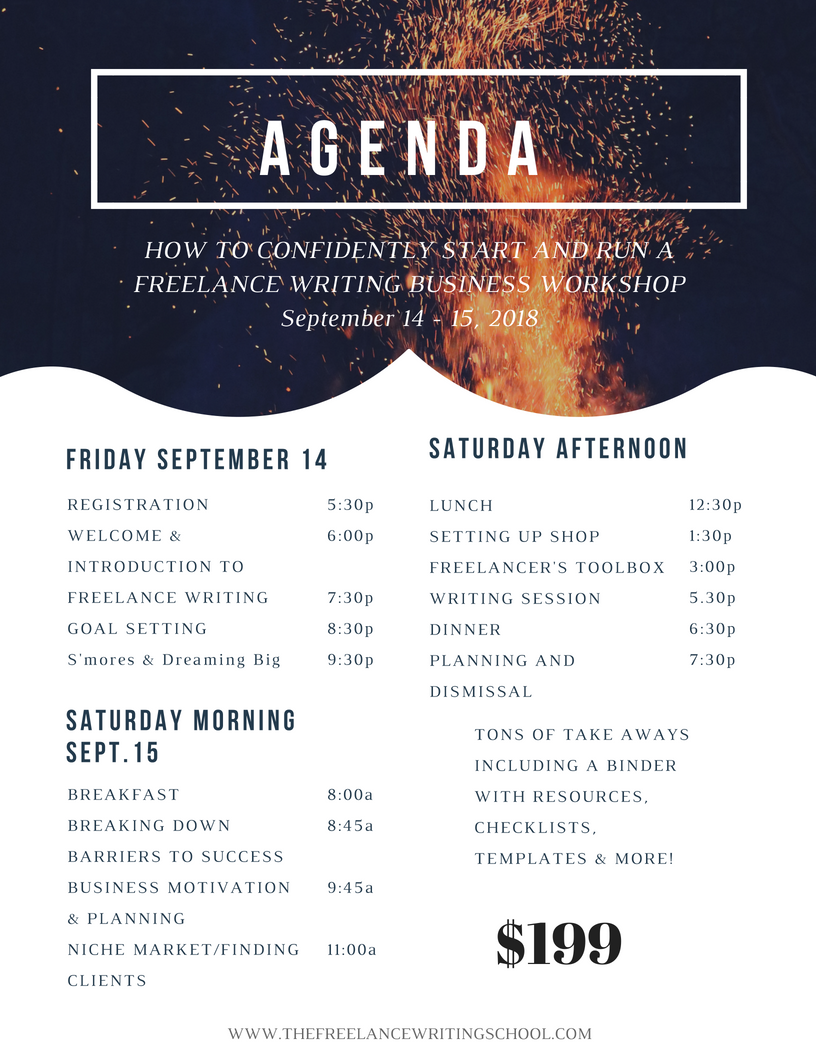 Camp Bretondean is situated on the beautiful Mira River, just a short drive from Sydney, Nova Scotia. The camp has three lodging houses completed with bunk beds, full bathroom facilities, showers, ramps for accessibility, large sitting areas and more. The workshop will take place in the main building of the camp in the dining hall. There is plenty of parking and the Mira River is just a short walk down a beautiful trail where you can take in some of the best views Cape Breton has to offer.
If you have any questions, reach out to heatherdeveaux@gmail.com
If you've been thinking of starting your own freelance writing business, now is the time to act! We are looking forward to seeing each and every one of you!