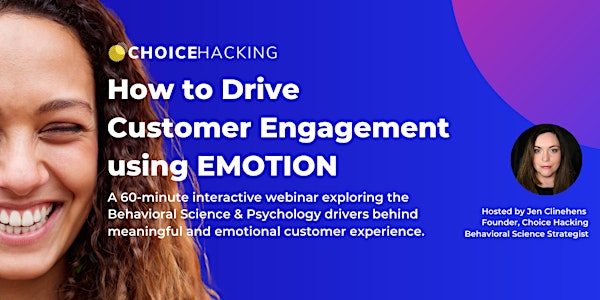 How to Drive Customer Engagement With EMOTION
A 60-minute interactive webinar exploring the Behavioral Science & Psychology drivers behind meaningful and effective customer experiences.
Refund Policy
Contact the organizer to request a refund.
About this event
We're all trying to create customer experiences that persuade, engage, influence, and inspire.
But there's something else - an "X factor" - that the best customer experiences share.
What is it?
Emotion.
Deloitte Digital found that positive emotional experiences drive business results:
92% of customers are more likely to stay loyal to a brand with which they have a positive emotional connection.
88% of customers are more likely to spend more with brands about which they feel positively.
91% of customers are willing to advocate for businesses which they associate positive emotions.
If that wasn't enough to convince you, customer experience research firm Forrester found that the way customers feel about a brand has 1.5x more impact on business outcomes than how they think about it.
In other words, emotions are like superglue for brands.
They can:
Grab people's attention
Make your brand more memorable
Increase the odds customers will buy when it's time

But most importantly, emotion can help us create meaningful relationships with customers - not just transactional ones.
Join us on August 11th, 2022 for a 60-minute interactive webinar to learn how to drive customer engagement with EMOTION:
We'll explore the power of behavioral science and psychology application to help us:
How emotion drives brand preference, memories, and willingness to recommend
How emotion can help your product be customers' number one choice - every time
How to understand what your customers are feeling now, and to set the stage for a more positive emotional experience
- And how to apply these learnings in the real-world.
We'll examine foundational Behavioral Science principles and cutting-edge findings- but we won't stop at academic insights. We'll also explore:
Dozens of real-world brand examples
Practical strategies for application in marketing and product design
Specific formulas and frameworks to help you hit the ground running
And if you can't make this date, don't worry. Your purchase guarantees 30 day access to a recording of the webinar, and you can send in any questions beforehand to your host, Jen Clinehens (Founder and MD of Choice Hacking).
⏲️ Save 50% off the regular price when you sign up before July 28th. ⏲️