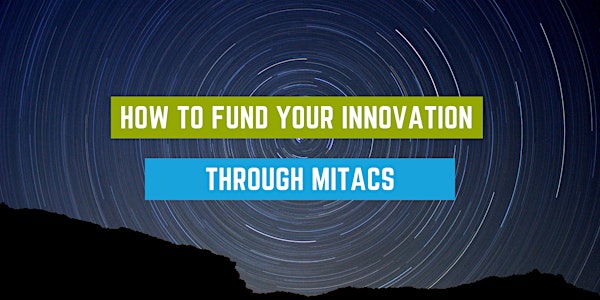 How to Fund Your Innovation Through Mitacs
How to Fund Your Innovation Through Mitacs
About this event
Mitacs is a national, independent, not-for-profit organization that fosters growth and innovation. We bring together industry (including for profit and non-profits) and post-secondary institutions to develop R&D projects which solve business and societal challenges while advancing academic research goals.
Together and with our other university and community partners, we hope to help academics, entrepreneurs, non-profits, and companies turn their research into ground-breaking discoveries (both social and commercial innovations) to improve healthcare, and other sectors across Canada and around the world.
If you are interested in learning more, please join us for this session.
This session will be presented by Sarah Topps MPH MBA, Business Development Specialist, Mitacs and Industry Liaison, Innovate Calgary (Specializing in Life Sciences and Social Innovation)
______
This event is part of the Global Healthcare Innovation Academy's (GHIA) Alberta Community Event Series, taking place from June 1-8, 2021.
GHIA: June 7-9, 2021
GHIA is an international scientific and business pitch competition with streams for biomedical, social, and COVID-19 innovations, taking place virtually from June 7-9, 2021. Attend keynote talks and workshops from world class scientists and innovators, participate in networking sessions with international attendees, and vote for your favourite innovation!
Register for GHIA to access all the sessions including How to Fund Your Innovation Through Mitacs on June 8th HERE
__
About the Speaker (seen below):
Sarah Topps is a public health professional and business strategist, with many years of experience across various industries. Sarah holds both a Master of Public Health (MPH, Global Health Specialization) and a Master of Business Administration (MBA) from SFU, and an honours degree in International Development from McGill. Sarah currently works for Mitacs, an independent, national non-profit which promotes innovation in the Canadian economy by building collaborative research projects between industry partners (including eligible not-for-profits) and academia. Sarah is jointly appointed at Innovate Calgary (University of Calgary's incubator), where she works closely with the Life Sciences and Social Innovation teams.