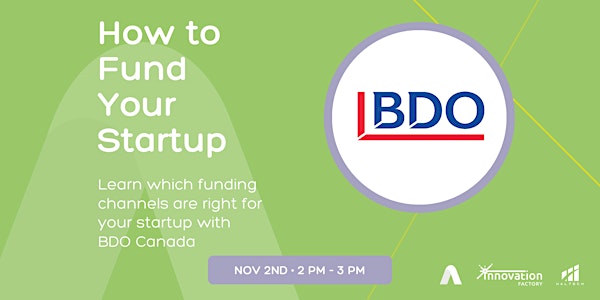 How to Fund your Startup with BDO
Discover the types of funding that are right for you.
About this event
This session with BDO will be open to all Regional Innovation Centre Clients and is offered in collaboration with Haltech and Innovation Factory. You must be registered with a Regional Innovation Centre to participate. If you are not currently registered with any, register here.
Ideal Audience: Validation/MVP stage technology startups
Goal: For participants to understand the differences between various startup funding sources, including government programs, self/friends and family, angel or seed funding, and early revenue.
Learn which you should prioritize and what channels are best suited for your venture.
Speakers:
Jamie Barron, Partner, Technology and Life Sciences at BDO Canada LLP
Jamie is a Partner in BDO's Burlington office, with over 20 years of professional experience providing audit and advisory services to innovation-based high growth companies.
Jamie has served clients in a wide range of industries, including TLS (Technology, Life Sciences and Software) and advanced manufacturing. He has successfully assisted clients with complex financial reporting requirements, mergers and acquisitions and capital raise transactions.
Jamie leads BDO's Toronto West TLS Group. He is involved in the community through his Chairmanship of Haltech Regional Innovation Centre and his extensive involvement in the innovation eco-system across Ontario.
Richard Burdeniuk, Senior Manager at BDO Canada LLP
Richard leads the GTA's technology, media & life sciences team in BDO's Advisory Services Practice. He specializes in government incentive programs, particularly tax credits to fund growth and innovation.
Richard has spent 12 years traveling across Canada helping companies reconcile their work with the government's expectations. The Scientific Research and Experimental Development (SR&ED) program is one of the more controversial CRA programs and he has participated in CRA policy development, and managed CRA relations in hundreds of CRA reviews. His experience in private sector entrepreneurship and R&D helps him appreciate an owner operator's bottom line while also applying the scientific know-how within the conventions accountants and lawyers require.
As an entrepreneur, Richard developed software technologies for distributed computation, image recognition, and Geographic Information Systems. He has worked with Boeing, Berkshire Hathaway Companies, garage.com, and The Ontario Geological Survey.
About Altitude Accelerator:
Altitude Accelerator (formerly RIC Centre) is a not-for-profit innovation hub and business incubator for Brampton, Mississauga, Caledon, and other communities in Southern Ontario. RIC Centres' focus is to be a dynamic catalyst for tech companies. We help our companies scale to new heights.
Our team consists of more than 100 expert advisors, industry, academic, government partners. The team helps companies in Advanced Manufacturing, Internet of Things, Hardware & Software, Cleantech and Life Sciences to commercialize their products and get them to market faster.
About Innovation Factory:
Innovation Factory (iF) is a non-profit business accelerator, providing entrepreneurs with business services, training, mentorship and strategic connections to help bring your disruptive technologies to market, increase revenues, attract investment and create jobs.
Serving as the catalyst for tech innovation in the greater Hamilton area since 2011 we are driven to help:
Entrepreneurs bring new ideas to life and to market
Small/Medium Enterprises (SMEs) get to the next level
Hamilton build a dynamic culture and a community of innovation
Innovation can happen anywhere. Our goal is to make it work everywhere. We work to elevate key industry sectors including: advanced manufacturing, clean tech, information technology, integrated mobility, life sciences & health care and social innovations.
About Haltech:
Haltech is one of 17 Regional Innovation Centres (RICs) across the province of Ontario. We are a non-profit corporation backed by the Ministry of Economic Development, Job Creation and Trade, and corporate sponsors – Supporting a strong, innovative economy that can provide jobs, opportunities, and prosperity for all Ontarians.
Whatever stage a company is in, Haltech's staff and team of experienced advisors are passionate about bringing the right education, advisory services, and strategic connections to develop and grow innovation-oriented businesses to the next stage. From startups to large global corporations, Haltech is available to help you advance your technology-based innovations to market or to scale up your business.