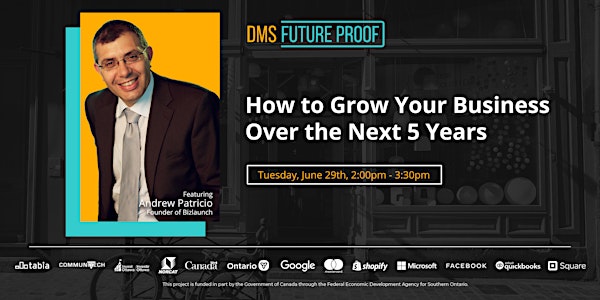 How to Grow Your Business Over the Next 5 Years
Join us for a session on strategies you can use to increase your revenue and profit.
About this event
Zoom link for the webinar: https://us02web.zoom.us/meeting/register/tZ0lde-qrz0rH9O2AfEK0tADrWfqCQpABwY4
Future Proof is a program that assists businesses with identifying new markets, pivoting their business model, and developing and implementing a deep digital transformation plan. Access via Zoom link below.
Crisis creates opportunity, the next five years will be an opportunity to grow your business. In this webinar we'll discuss strategies you can use to increase your revenue and profit.
We'll discuss:
• The future opportunities for small business due to the changes in the economy
• How to create a new business vision
• Adjusting your business model to suit the changes in buying habits
• Identifying your ideal target market
• Online and offline promotion strategies to increase the traffic to your business
• Re-calculating your break-even to take changes in your fixed expenses and profits into account
• How to plan for potential inflation and create a cash flow forecast for your business
Please register and complete the survey questions upon checkout. Please note that this session will be recorded. Join via Zoom here at 2pm.