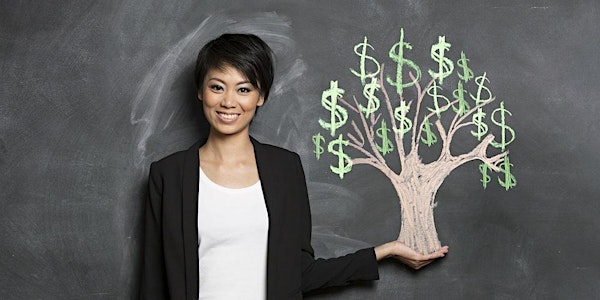 How to Invest and Grow Your Money, For Women (Four Online Sessions)
Refund Policy
Refunds up to 7 days before event
Description
Women everywhere say the same thing when it comes to investing: They don't feel confident and they're afraid of losing money. Some have had bad experiences with financial advisors and they feel that everyone, from bankers to advisors, seems to have a vested interest in what they recommend.
They don't know who to trust, so they play it safe, if they invest at all. Or, they keep saying that they'll get to it whenever they figure it out, some day, later. Sound familiar?
We all know that later never comes.
Unfortunately, women harm their financial future as well as their ability to create good options for themselves when they avoid investing. Their retirement is full of question marks, and heaven forbid that an unforeseen trauma should occur.
In the book Shortchanged: Why Women Have Less Wealth and What Can Be Done About It, we learn that on average, women have less than 50% of the wealth that men have. This has an impact on our ability to thrive when faced with adversity – loss of job, health issues, change in marital status and so on.
One of the biggest obstacles to developing our net worth is the fact that we tend to delegate investing and larger financial decisions to the men in our lives on the mistaken belief that they'll do a better job. In fact, the data clearly show that when women get down to investing, they do as good a job as men, or better.
The best way to create great options for ourselves is by growing our net worth. One of the ways to do that is to make our money work for us by investing and growing it.
Make money work for you
What if you could turn your money into your employee and make it for for you? What if you also learned that it's not that difficult?
In this live, online course, Doris Belland, host of the Women's Money Group, financial literacy educator and investor, tackles the issue of investing for women. She will help you learn the fundamentals of investing and grow your confidence so that you can take charge of your money.
Topics to be covered in this course include:
How your mindset and money story influence your financial decisions, based on research.
The terminology of investing: What on earth do those terms mean?
Risk: What is it and how does it work?
Are safe investments really safe?
How to start investing.
Comparing different investments – their relative strengths and risks.
Which factors matter, according to research?
Outlining different investments strategies. What works, and when?
Should you use a financial advisor? If so, what should you look for?
How tax considerations affect investment choices.
A step-by-step overview of how to open a discount brokerage account and how to buy index funds
You will receive a total of ten hours of instruction delivered in four online sessions: two teaching sessions (4 hours each) with follow-up webinars after each session (1 hour each).
You will also gain access to our closed Facebook group where you can continue to ask questions of our community and share your experiences.
The schedule for the sessions and follow-up webinars is as follows:
TEACHING SESSION 1 - Saturday, March 23rd from 1pm to 5 pm.
Follow-up Webinar #1 - Thursday, March 28th from 7:30pm to 8:30 pm.
TEACHING SESSION 2 - Saturday, March 30th from 1pm to 5 pm.
Follow-up Webinar #2 - Thursday, April 4th from 7:30pm to 8:30 pm.
All sessions and webinars are led by Doris Belland. A PDF workbook and a link to join the workshop will be provided two days prior to the start of Session 1. We use the video conference service Zoom. To participate, you require a headset, laptop or desktop with a camera, and internet access. You will also need to download the zoom.us application, which you can easily do by clicking the link we send you for Session 1.
The teaching sessions and follow-up webinars will be recorded. If you are unavailable for one of the webinars, or you have to leave before a session ends, you will have access to the recordings for 30 days after the end of the course.
Some of the benefits of participating in the How to Invest Course include:
Women-only safe zone: Ask any question you like, without intimidation. There are no dumb questions!
Get evidence-based answers you can trust, not a sales pitch.
Hands-on experience through case-based learning.
Women's Money Group members enjoy a 25% discount. To become a WMG member, click here.
The number of participants is capped at 20 to allow for deeper discussions and attention to individual questions.
Reserve your spot today and start securing your future within our community of support.