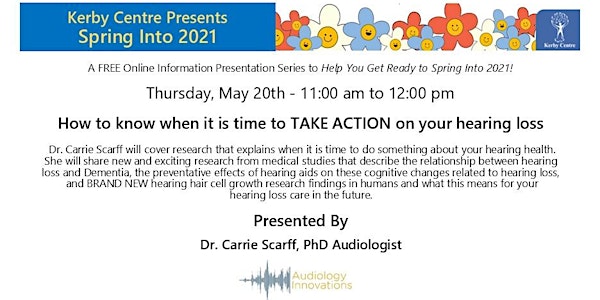 How to know when it is time to TAKE ACTION on your hearing loss
How to know when it is time to TAKE ACTION on your hearing loss
About this event
A FREE Online Information Presentation Series to Help You Get Ready to Spring Into 2021!
Monday May 20th - 11:00 am to 12:00 pm
How to know when it is time to TAKE ACTION on your hearing loss
Dr. Carrie Scarff will cover research that explains when it is time to do something about your hearing health.
She will share new and exciting research from medical studies that describe the relationship between hearing loss and Dementia, the preventative effects of hearing aids on these cognitive changes related to hearing loss, and BRAND NEW hearing hair cell growth research findings in humans and what this means for your hearing loss care in the future.
Presented By
Dr. Carrie Scarff, PhD Audiologist
FREE REGISTRATION
PLEASE ENSURE YOU REGISTER YOUR CORRECT EMAIL AS AN EMAIL WILL BE SENT TO YOU BY COLLEENC@KERBYCENTRE.COM TO PROVIDE YOU WITH THE ZOOM LINK AND DETAILS TO JOIN.
Brought to You By