Event Information
Refund policy
Refunds up to 1 day before event
Eventbrite's fee is nonrefundable.
Rabbi Matthew Ponak shows how the things you missed in Jewish history class allow you to be a proudly creative and freethinking Jew.
About this event
Lecture 1 - How To Make a Pig Kosher
Thursday, August 12, 2021 from 6-7:30 pm PT
With two interpretive tools, our ancestors made the impure pure and turned whole bodies of law upside down. Learn the tried, tested, and true methods of making new ideas sound old which allowed for thousands of years of organic cultural transformation. You'll even learn how to make a pig kosher!
The Kosher Pig Lecture Series:
It is a myth that Judaism "has always been this way." Still, many Jews today carry guilt for not being more "religious," or hold Orthodoxy or ritually observant life as the ideal. In these four lectures you will learn how and why Jews have always made choices about how they want to live, regardless of what religious customs they inherited. Learning the ancient tradition of religious innovation can put your mind at ease and give you the confidence to live life authentically.
Other Lectures in this Series:
Lecture 2 - The Bar Mitzvah Industry: The Secret History of Jewish Initiation Rites
Thursday, August 19, 2021 from 6-7:30pm PT
Our early ancestors did not chant the Torah at the age of thirteen. The earliest mentions of the Bar Mitzvah don't mention an age or any ceremony at all. Learn how and why the Bar Mitzvah Ceremony (and later the Bat Mitzvah Ceremony) were invented in recent history. With this knowledge you can feel free to train your children as you see fit.
Lecture 3 - Intermarriage - Following in the Footsteps of Moses
Thursday, August 26, 2021 from 6-7:30pm PT
Is intermarriage a modern phenomenon and thus a betrayal of our predecessors? Definitely not! Learn the ancient Israelite custom of pairing up with someone outside the tribe. Even Moses did it! Why did this practice later become taboo? And why do most Jews never learn this growing up?
Lecture 4 - Spiritual Innovations: How to be a Jewish Lineage Holder
Thursday, September 2, 2021 from 6-7:30pm PT
It is a myth that we come from a long line of traditionalists. Actually, the great majority of Jewish thinkers, prophets, rabbis, and philosophers that we celebrate today were rebels. With this in mind, what does it mean to walk in the footsteps of our greatest ancestors in today's world?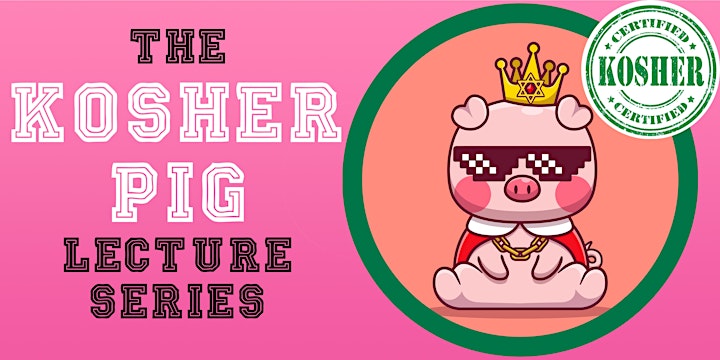 Date and time
Location
Refund policy
Refunds up to 1 day before event
Eventbrite's fee is nonrefundable.
Organizer of How to Make a Pig Kosher - Individual Lecture
Rabbi Matthew Ponak is a teacher, musician, and spiritual counselor. With a background in the academic study of religion, including an MA from the Buddhist Inspired Naropa University, Rabbi Matthew draws on critical history and world wisdom traditions to articulate a bold and fresh vision of religion in our age. He is the co-founder of Mekorah.com, a spiritual education and innovation institute for seekers of any background who hear the call to look within and bring their unique gifts to the world.
"Matthew's evolving vision of an evolving Judaism steps beyond the limits of a supposed Jewish essentialism, shatters the imposed conformity of an imagined Jewish continuity, and allows the iconoclastic daring of Jewish creativity to reinvent who is and what it means to be a Jew in the 21st century." - Rabbi Rami Shapiro, award winning author and spiritual teacher