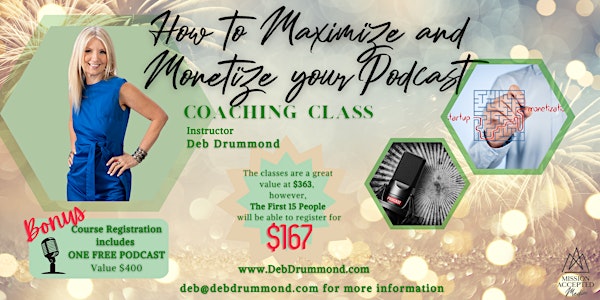 How to Maximize & Monetize your Podcast
From startups to seasoned podcasters, in this class, Top Performance trainer Deb Drummond will show you HOW and WHY to monetize your show!
By Mission Accepted Media
Date and time
Mon, Jun 12, 2023 3:00 PM - 5:00 PM PDT
Refund Policy
Contact the organizer to request a refund.
Eventbrite's fee is nonrefundable.
About this event
This training is for anyone who wants to create a very successful podcast or monetize the one you have already, even from the first episode.
This training is also for anyone that wants to simply be a highly successful guest on podcasts that gets asked to come back over and over. Learn the questions you want to be asked that will have people calling you after the show and learn the questions to avoid. There are absolute questions you will want to guide the host to make sure they lead into the stories you want to share. Learn how to use even one podcast show to get you on many more shows, stages, radio and TV.
We will explore:
Why podcasts are absolutely worth the time.
Why it's a myth that sponsors will only pay to be on podcasts that have a big following.
Why it's perfectly fine to monetize your podcast from the very first episode.
You'll learn:
The true value of having a podcast.
How to leverage your show or your episode to offset your marketing budget.
How to attract incredible people to your show that'll increase your listenership and business platform.
What is value stacking and how to offer your value to podcasts guests.
How to interview for success and learn how to be a guest and be seen.
How to educate your guests on how their episode will hit the top of the ranks for listenership.
How to have the most success and the absolute most fun being part of this incredible world of innovative marketing and podcasts!
How to get on ALL the podcasts on which you want to be seen.
I'm Dave Henning,
I recently attended Deb Drummond's How to Maximize and Monetize your Podcast online training class.
I was blown away by the depth of insights and relevant information she shared.
As a veteran podcaster and lifelong student, I took pages of notes. I highly recommend any business owner who is a podcaster, or thinking about starting a podcast to get on Deb's email list and sign up for this high level training.
Dave HenningInternational podcaster,International Trainer, CopywriterFreshstartDigitalMarketing.orgFreshstartPodcast.comDaveHenningBlog.com (YouTube)FreshstartBenefits.com