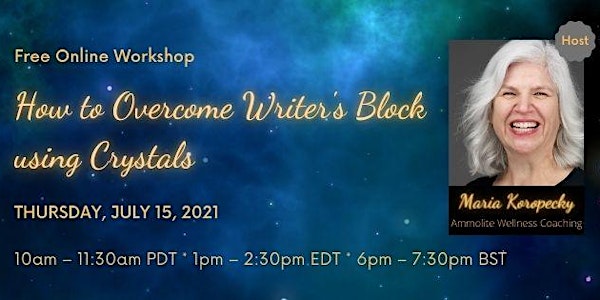 How to Overcome Writer's Blocks using Crystals
If you're looking for ways to get the creative juices flowing and start writing the book you've always dreamed of, this workshop is for you!
About this event
Any writer worth their salt will tell you, the first solution when it comes to writing a book of influence is to actually write. Write, write, write!
But sometimes, even with the best of intentions, the writing doesn't flow. I know, I've been there. I know what it's like to be stuck.
Since I've started doing these workshops, I've found 22 writer's blocks that may show up on a writer's journey.
Here's what I do when I have writer's block. -- I look to crystals because holding a crystal is like holding the universe in your hand.
There are so many crystals you can use to inspire creativity and in this interactive workshop, I'll show you some of my favourites.
We'll also do some writing exercises to prime the pump.
If you're one of the 81% of people who want to write a book someday, sign up for this free online workshop and start writing today!